When Jealous Mpofu was a boy, he overheard his father's bosses talking negatively about painted dogs, wild African canines with distinct marble coats that are among the world's most endangered species.
"They said they didn't kill an animal, they grabbed the flesh. They said they were rough animals," Mpofu said.
His father was a farm on the edge of Hwange national park in Zimbabwe. Painted dogs, contrary to what the bosses of Mpofu's father said, are not scavengers. Nor are they hyenas, which are much larger, only distantly related and steal their prey. But farmers still shoot them. Conservationists and tourists show little interest in them. Poachers aiming for antelopes ensnare them. Cars run them over.
Starved of habitat, maligned and hunted, painted dogs have plummeted in number from an estimated half a million to fewer than 7,000, surviving on the edge of oblivion in a few pockets of southern Africa. Scientists believe climate change threatens to wipe them out completely. As underdogs go, they are hard to beat.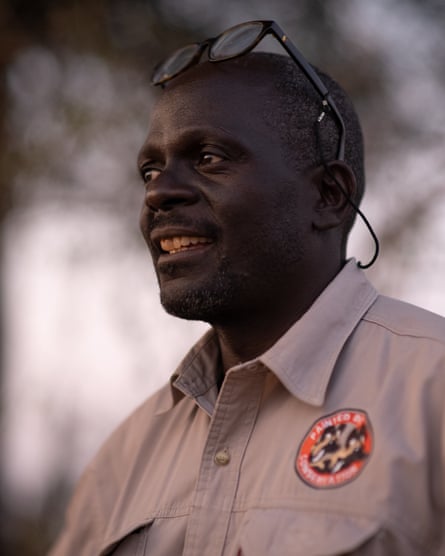 But they do have some friends, and none more friendly than the man who has been recognised by the charity Tusk as its ranger of the year for his work over a quarter of a century bringing these curious animals back from the brink.
Mpofu, 54, had never seen a painted dog until 1997, he said in an interview from his office to reveal news of his award. He grew up trekking barefoot to school and worked for years as a casual labourer in Zimbabwe's national park system, but left the job when he saw the country "going down".
His life changed when he met Peter Blinston, a Briton who founded Painted Dog Conservation after learning about the animals in a Jane Goodall documentary at the age of eight.
Mpofu became the charity's first ranger, and as money trickled in he crisscrossed Hwange searching for dogs, often walking 20 miles to the nearest mechanic when the charity's one vehicle broke down.
Tragedy struck in 2006 when the alpha male in Hwange's last pack was killed and the group dispersed. Mpofu and the team brought the alpha female into a new rehabilitation enclosure. For six months Hwange had no painted dogs in the wild.
They released the female and chose an alpha male from the enclosure. In the years that followed the female dog raised as many as 30 puppies. "Now we are following some of these offspring," he said. "So we did a nice job."
Mpofu is in charge of six rangers who track the five packs the project looks after. Together they amount to between 150 and 200 dogs, roaming more than 1,000 square miles. Each morning he wakes at 4am and heads off into the bush with his radio equipment, sometimes staying days at a time and alerting anti-poaching units to sweep an area for snares when he finds a pack. He knows each of his dogs by the unique markings on their left and right sides.
Blinston credits Mpofu with saving dozens of dogs' lives. Last year he found four in one pack ensnared together. "One by one, as I found them, we got the snares off," he said.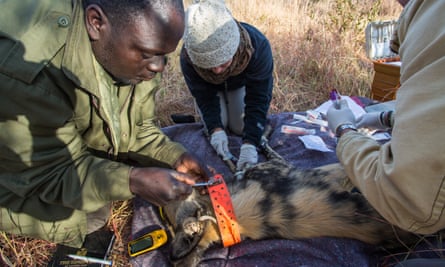 With his wages he has been able to send his four children to school, including one to boarding school. Mpofu is having a classroom built at his old school and has begun to teach rural children his skills.
This month he will fly to London to receive his prize, most likely from Prince William, who helped to establish the awards in 2013. Mpofu said he shivered with shock when Blinston told him he had won.
He was not aware that he would be receiving a grant of £30,000, and laughed when he was told. He said he would spend it on his wife Tendai and family, but also the community.
"I need to show to other people as well that if you get the money you give a little bit to other people," Mpofu said. "I share that with painted dogs." They regurgitate food for each other, and puppies get first dibs on meat.
"They are not selfish like lions," Mpofu said. "They always share."
Steigern Sie Ihre TikTok-Follower mit Kostenlosen Münzen
Mastering Free Coins in LivU Video Chat: Expert Insights
Coin Master Free Spins Today: Quick Tips
Avakin Life Avacoins Hack Safety: Best Practices
Free Credits in Bingo Blitz: Insider Secrets
Coin Master Spins Myths and Facts: Unraveled
psa genshin impact 2 6 external rewards compilation reddit
ZEPETO Zems Farming: Your Ultimate Guide
match masters free coins booster gift collection gamehunters club
Free TikTok Coins: The Future of Social Media
Free Gems in Brawl Stars: Elevating Your Gaming Experience
easy working free dragon city gems generator
TikTok Coin Hacks for Content Creators
Votre passeport pour la domination sur TikTok : Les pièces gratuites
LivU Video Chat Free Coin Generator Review: Best Practices
free coins tiktok
free coins tiktok
free coins tiktok
free coins tiktok
free coins tiktok
free coins tiktok
free coins tiktok
free coins tiktok
free coins tiktok
free coins tiktok