Kittens Willow and Maple have been rescued – but California's mountain lions are at risk | California
The two sisters are tiny – only five and a half pounds, and about two months old. They have giant eyes and mottled patches on their fur. Found in a backyard five days after their mother was hit on Highway 280 in northern California, the mountain lions headed to a new home at the Oakland zoo last week.
The sisters, now named Willow and Maple, were hungry and tired after not eating for five days. The cubs were visibly dehydrated, and underweight, and were checked for parasites and viruses by veterinarians, zoo officials said.
"Our team will be caring for the cubs daily to restore them to full health and for their overall animal wellbeing," said Dr Alex Herman, Oakland zoo's vice-president of veterinary services, in a statement.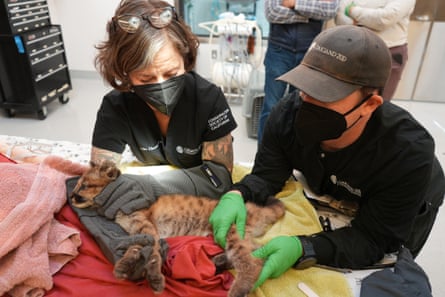 The kittens are the 25th and 26th to end up rescued at the zoo, the statement said. Kittens like these that have been orphaned by their mothers stay in the zoo's intensive care unit for an average of eight days before they are moved to a holding area. They will eventually be moved to another zoo or sanctuary, which will be decided by the California department of fish and wildlife. Wild kittens spend the first two years of life with their mothers to learn how to hunt and survive – so orphaned cubs can't return to the wild without the proper skills.
Earlier this year, another pair of mountain lion kittens were brought to the Oakland zoo for rescue after being separated from their mothers. Hazel and Holly eventually landed at the Big Bear zoo, where they are now 73lb each and popular with zoo visitors. Females can grow up to 141lb, and can live up to 21 years in captivity.
Mountain lions are not critically endangered yet, but experts say their population is on a downslope in California, where there are only about 4,000 left. Hunting the animals was banned in 1990, and today the biggest threats to their continued existence are having enough habitat to increase the gene pool and being hit by cars on busy highways – as happened with Willow and Maple's mother.
Historically, mountain lions lived all the way up and down North and South America, but were hunted almost to eradication in the 1900s. They are considered officially extinct on the east coast. Some southern California mountain lion populations could disappear in little more than a decade, according to a March 2019 study. Researchers predicted that if inbreeding depression occurs, the Santa Ana and Santa Monica populations could go extinct within 12 and 15 years.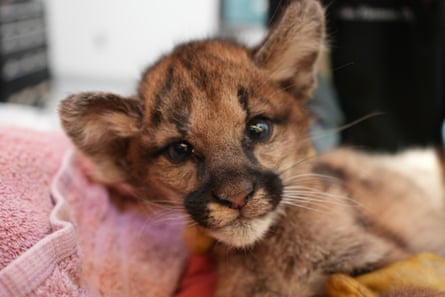 Experts say there is a need for more wildlife overpasses like the $90m Wallis Annenberg crossing, being built over the 101 freeway in northern Los Angeles county. There, a 200ft-long bridge covered in natural vegetation serves as a way for animals, plants and even birds to move safely across a 10-lane highway. Similarly in Santa Cruz, the first highway underpass for wildlife was recently completed.
"These cubs became orphans when their mother was struck by a car on a busy highway, a tragedy suffered by wildlife when safe passage across their natural territories isn't possible," said Nik Dehejia, Oakland zoo's chief executive. "We support and advocate for more wildlife crossings."
Californians are still trying to figure out how to live alongside large wildlife like mountain lions. As of March, the state of California began to consider prioritizing statewide wildlife connectivity, identifying 62 locations where wildlife crossings could have the biggest impact, with 12 being identified as the highest priority.
These crossings came too late for Los Angeles's famous mountain lion, P-22, who died aged 12 in December last year. He lived in the smallest patch of territory of any mountain lion, 8 sq miles of public park, but became an influencer for the idea of connectivity.
Steigern Sie Ihre TikTok-Follower mit Kostenlosen Münzen
Mastering Free Coins in LivU Video Chat: Expert Insights
Coin Master Free Spins Today: Quick Tips
Avakin Life Avacoins Hack Safety: Best Practices
Free Credits in Bingo Blitz: Insider Secrets
Coin Master Spins Myths and Facts: Unraveled
psa genshin impact 2 6 external rewards compilation reddit
ZEPETO Zems Farming: Your Ultimate Guide
match masters free coins booster gift collection gamehunters club
Free TikTok Coins: The Future of Social Media
Free Gems in Brawl Stars: Elevating Your Gaming Experience
easy working free dragon city gems generator
TikTok Coin Hacks for Content Creators
Votre passeport pour la domination sur TikTok : Les pièces gratuites
LivU Video Chat Free Coin Generator Review: Best Practices
free coins tiktok
free coins tiktok
free coins tiktok
free coins tiktok
free coins tiktok
free coins tiktok
free coins tiktok
free coins tiktok
free coins tiktok
free coins tiktok