Chinese fast fashion brand Shein is on track to overtake two fashion giants this year: Zara and H&M. The private company's revenue reportedly surged to $24 billion through the first nine months of 2023, The Information reports.
3 considerations before your company takes a stance
Shein reportedly generated $23 billion in revenue last year, according to the Wall Street Journal, with a net profit of $800 million, and had its sights to grow its revenue by 40% by the end of this year. It's reportedly on track to hit its target.
The revenue figures would indicate that the Chinese fashion shop has already surpassed Swedish fast fashion company H&M. The company, formally known as H & M Hennes & Mauritz AB, reported $16.4 billion (173.4 billion Swedish krona) in net revenue and $8.2 billion (87.2 billion Swedish krona) in gross profit over the nine-month period from December 1, 2022 to August 31, 2023. Inditex, the Spanish fashion giant that owns Zara, reported $18.3 billion (16.9 billion euros) in revenue in the six months from February 1 to July 31, and gross profit of $10.6 billion (9.8 billion euros).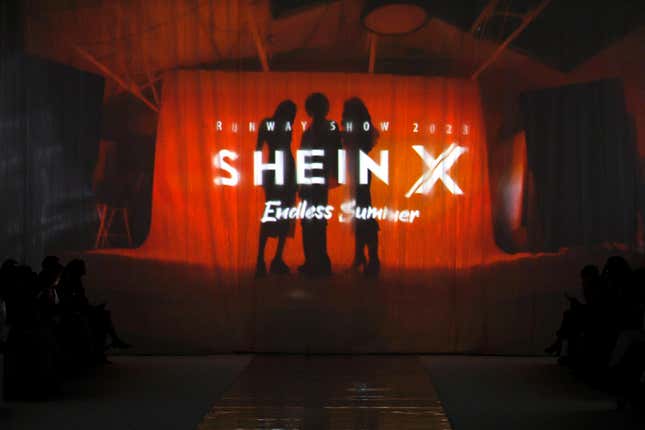 Shein is growing to become a new Amazon
The private company reportedly has ambitious plans to go public as soon as 2024, as it faces allegations from the US government (pdf) of forced labor, controversial sourcing, intellectual property infringements, and exploiting trade loopholes, among others.
Shein was last valued at $66 billion—a third less than last year's $100 billion—and is backed by investors including Sequoia Capital, Tiger Global and General Atlantic.
Rising out of the pandemic, the Chinese fashion brand lured customers with extremely low prices, like as $3 shirts and $12 dresses, for women who want to secure trends on the cheap.
In March 2020, Shein held 18% of US market share in fast fashion, according to a research brief by the US-China Economic and Security Review Commission (USCC). That number skyrocketed to 40% within two years. By November 2022, Shein accounted for 50% of all fast fashion sales, ahead of H&M (16%) and Zara (13%). By May 2022, its app was briefly more downloaded in the US than TikTok, Instagram, and Twitter.
Shein is not done yet. The fast fashion online store wants to evolve into a new Amazon, poaching the site's sellers to sign up on Shein's platform by providing incentives for merchants who clear $2 million a year. In other expansions, Shein now sells electronics; this year it struck a partnership with US retailer Forever 21 to cross-sell merchandise and utilize physical stores for shopping and returns. In August, Shein announced it has reached 150 million users.
While Shein is a fair way from competing with Amazon, the speed it expanded into the US market in just three years is no easy feat. In the end, consumers like cheap—and that's paying off in the bottom line.
real free diamonds generator get free diamonds for hay day
download get free diamond litmatch apk for android apk4k
myths of moonrise 2023 redeem codes new gift code youtube
pull the pin hack mod unlocked no ads 153 0 1 modpda com
evony the kings return hack unlimited gems generator nifty gateway
rune factory 4 special archival edition announced for north
project makeover coins cash gems boosters hack and moves
beach buggy racing mod apk v2023 01 11 unlimited money
TikTok Coin Generators: Fact or Fiction?
Le futur du TikTok : Les pièces gratuites
Your Ticket to Chat Domination: Free Coins in LivU Video Chat
Where to Find Free Spins in Coin Master: Your Guide
The Science of Avacoins Farming in Avakin Life
How to Get Credits in Bingo Blitz Effortlessly
Mastering Spins in Coin Master: Expert Insights
Free TikTok Coins: The Real Deal
TikTok Coin Hacks for Content Creators
Unlocking TikTok Coins: Insider Techniques
مولدي العملات TikTok: النجاح والفشل
Free TikTok Coins: Insider Secrets
TikTok Coin Farming Demystified
زيادة رصيدك من العملات في TikTok: نصائح مهمة
LivU Video Chat Free Coin Generator Scams: What to Avoid
Coin Master Free Spins Today: Quick Tips
Free Avacoins in Avakin Life: Insider Secrets