If you've ever misplaced a screwdriver or a measuring tape while doing a repair job, you might know how NASA astronauts Jasmin Moghbeli and Loral O'Hara felt this week. While on a spacewalk to repair some solar arrays on the International Space Station, their trusty tool bag gave them the slip. But unlike of your gravity-bound hammer (which is still around here somewhere, I swear), their full tool bag floated away into space.
This is not the first case of a wayward tool in space. Another tool bag was lost in 2008, and a beloved spatula was lost in 2006 (no, it wasn't for making brownies, it was used for testing a heat shield repair method). But this latest lost tool bag is one you can actually go out and see tonight. With a pair of binoculars, it may be glimpsed drifting a few minutes ahead of the ISS.
The case for short-selling stocks | Smart Investing
The newly errant tool bag poses no threat to the ISS or its occupants, and it's expected to burn up in the Earth's atmosphere after only a few months in orbit. But it temporarily adds to the rapidly growing belt of "space debris" around Earth. This debris, which consists of old spacecraft fragments, is nothing like the depiction in the 2008 animated movie WALL-E (yet). But there are tens of thousands of pieces of junk dangerously floating around our home planet. Even one just a centimeter across traveling at typical space speeds can rival the energy of a car crash in the city.
This past spring, a group of scientists reported in the Journal of Space Safety Engineering that space debris caused at least $86 million in damage from satellite collisions just in 2020. About a third of those losses were to commercial satellites. As satellite launches grow, the chances for collisions will only increase. And as the Organisation for Economic Co-operation and Development noted in a 2020 report, a cascade of collisions could result in "an ecological tipping point that may render certain orbits unusable."
Before you despair, know that there are many efforts to curb our extraterrestrial trash problem. The United Nations set out guidelines for discarding a used satellite; the US's Federal Communications Commission recently issued its first fine for an improperly disposed satellite; and this year the European Space Agency launched a Zero-Debris Charter to ensure that henceforth, whatever is sent up comes back down (burning up along the way). Hopefully these and other first steps put us on a path to avoid becoming a waste-encrusted world.
🌕🌖🌗
IMAGERY INTERLUDE
This week, the European Space Agency's new Euclid telescope released its first full-color images. This photo of spiral galaxy IC 342 is one of many galactic shots the telescope will take to understand how galaxies are influenced by dark energy and dark matter.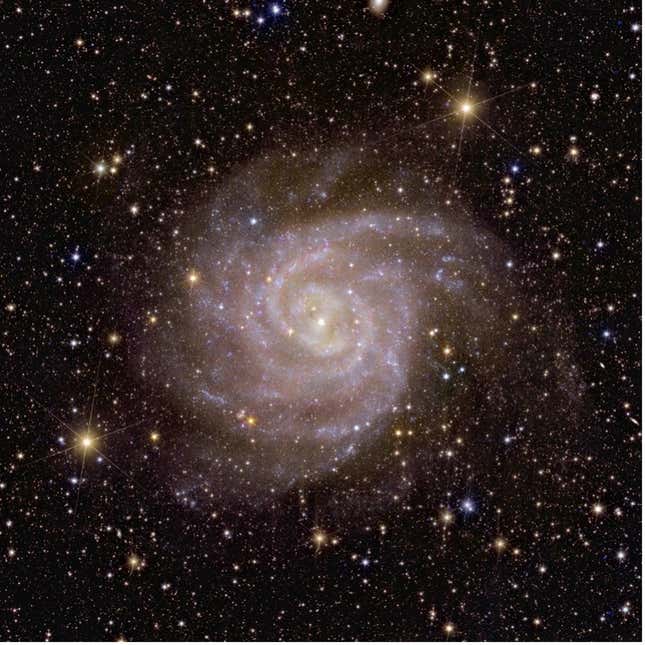 📡 📡 📡
SPACE DEBRIS (TOOL BAG NOT INCLUDED)
Is Starlink ready for an IPO? An investor in the SpaceX company said the satellite constellation business might be ready to go public "in 2027 or so." Elon Musk had a one-word tweet ("false") in response to a Bloomberg piece about the IPO speculation.
Japan is committing ¥1 trillion ($6.6 billion USD) to space development. The sum will be awarded to the Japan Aerospace Exploration Agency over the coming decade.
Lego is chronicling the history of space. The toy maker has a book about space in the second half of the 20th century and its portrayal through the company's space exploration product line.
SpaceX has launched its 82nd orbital mission this year. This one, Transporter-9, took 90 payloads into space, from cubesats to orbital transfer vehicles.
Nuclear powered spacecraft. That's what Lockheed Martin just received a $33.7 million contract for from the US military.
The world lost an astronaut. Frank Borman, commander of the first Apollo mission to orbit the Moon, died on Nov. 7 at the age of 93. During his time as a NASA astronaut, Borman made two trips to space.
This week's Space Business newsletter was authored by science writer and photographer Mara Johnson-Groh, and edited by Heather Landy.
Last week: US companies are developing new spaceports.
This was issue 203 of our newsletter. Hope your week is out of this world! Send tool bags, tips, and informed opinions to talk@qz.com. We're sending heartfelt thanks to Tim Fernholz, who founded this newsletter and faithfully served Quartz's readership for more than a decade. To keep up with Tim's work, sign up for his Substack.  

real free diamonds generator get free diamonds for hay day
download get free diamond litmatch apk for android apk4k
myths of moonrise 2023 redeem codes new gift code youtube
pull the pin hack mod unlocked no ads 153 0 1 modpda com
evony the kings return hack unlimited gems generator nifty gateway
rune factory 4 special archival edition announced for north
project makeover coins cash gems boosters hack and moves
beach buggy racing mod apk v2023 01 11 unlimited money
TikTok Coin Generators: Fact or Fiction?
Le futur du TikTok : Les pièces gratuites
Your Ticket to Chat Domination: Free Coins in LivU Video Chat
Where to Find Free Spins in Coin Master: Your Guide
The Science of Avacoins Farming in Avakin Life
How to Get Credits in Bingo Blitz Effortlessly
Mastering Spins in Coin Master: Expert Insights
Free TikTok Coins: The Real Deal
TikTok Coin Hacks for Content Creators
Unlocking TikTok Coins: Insider Techniques
مولدي العملات TikTok: النجاح والفشل
Free TikTok Coins: Insider Secrets
TikTok Coin Farming Demystified
زيادة رصيدك من العملات في TikTok: نصائح مهمة
LivU Video Chat Free Coin Generator Scams: What to Avoid
Coin Master Free Spins Today: Quick Tips
Free Avacoins in Avakin Life: Insider Secrets