Good morning, Quartz readers!
---
Here's what you need to know
ESPN Bet is here. Penn Entertainment, which will operate the sportsbook app, paid $1.5 billion for the rights to the sports network's name.
How an inflation sensitive ETF could protect you in a coming recession | Smart Investing
Climate change is costing the US economy $150 billion a year. The quadrennial National Climate Assessment was released yesterday, and included a new economic impact section.
German train drivers are going on strike. The GDL union called for a 20-hour strike later this week as workers seek higher wages to counter inflation.
Paris has too many SUVs. Mayor Anne Hidalgo is asking voters if they'd be interested in an SUV-specific parking fee ahead of the upcoming Olympics.
---
Place your Fed bets
US inflation held steady from September last month, signaling that the Federal Reserve's interest rate hiking campaign is finally over.
But what about the cuts? Some analysts say that the first Fed meeting of 2024, in March, will see rates start to come down, with the benchmark rate falling to 2% by 2025. Mortgage rates, though, might not ease until the second half of next year. Others have rosier views, seeing the whole US economy picking up to an expansion of 2.6% next year.
Grete Suarez looks into who's saying what, but don't treat it as a foregone conclusion. The most important driver of how we spend, after all, is not what analysts say, but how consumers feel.
---
One big number: 36%
The share of Safari search ad revenue Google gives Apple, according to one expert witness, who blurted it out in court
University of Chicago professor Kevin Murphy let slip a key number while testifying in Google's defense on Monday, according to Bloomberg. Google lawyer John Schmidtlein "visibly cringed." The search giant is two months into a major antitrust trial—the largest since Microsoft's in 1998. Quartz's Ananya Bhattacharya explores the fine line between being transparent in the courtroom and protecting trade secrets.
---
Who's selling their shares?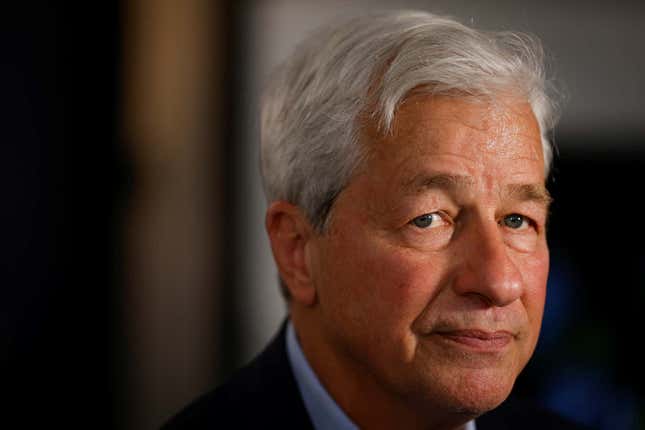 JPMorgan Chase CEO Jamie Dimon, for one. He's raising eyebrows with a plan to sell $140 million worth of his bank shares starting next year for "financial diversification and tax-planning purposes."
The announcement came as a surprise, considering Dimon has long held a hardline approach to keeping his bank stocks, even as far back as his Travelers' days, when former mentor Sandy Weill made management take a "blood oath" not to sell unless they left.
But Dimon's not alone. Here are other bank execs who have done the same.
---
Quartz's most popular
🤔 Is SpaceX's Starlink ready to launch an IPO?
🤔 🤔 Who's in the US Space Force's newest tech accelerator?
📦 Coyote vs. Acme movie dodged the fate of becoming a $30 million tax write-off
📵 Is Nepal's TikTok ban unconstitutional and undemocratic?
💉 How Ozempic, Wegovy, and Mounjaro compare on weight loss effectiveness
🧠 A Swiss startup is building computers using human neurons to cut emissions
---
Surprising discoveries
Men now have their lowest life expectancy since 1996. The widening gap between men and women has been expanded by covid and drug overdoses, which are more likely in men.
Cats' wide spectrum of eye colors began with the introduction of one other pigment long ago. An ocelot-like ancestor most likely had beautiful brown eyes—and then there was a lovely onslaught of gray.
Campbell's Cream of Mushroom soup is essentially just a version of canned béchamel sauce. That's why it's such a staple in American recipes of yore.
NCIS is more popular on Netflix than its most-watched original show, Wednesday. The long-running crime drama makes bank for every network or streamer it touches.
A book club took 28 years to read Finnegans Wake. The surprising discovery is that they finished the James Joyce book at all.
---
Did you know we have two premium weekend emails, too? One gives you analysis on the week's news, and one provides the best reads from Quartz and elsewhere to get your week started right. You can get those by becoming a member—and take 20% off!
Our best wishes for a productive day. Send any news, comments, Joyce study guides, and cream of mushroom bans to talk@qz.com. Today's Daily Brief was brought to you by Susan Howson
real free diamonds generator get free diamonds for hay day
download get free diamond litmatch apk for android apk4k
myths of moonrise 2023 redeem codes new gift code youtube
pull the pin hack mod unlocked no ads 153 0 1 modpda com
evony the kings return hack unlimited gems generator nifty gateway
rune factory 4 special archival edition announced for north
project makeover coins cash gems boosters hack and moves
beach buggy racing mod apk v2023 01 11 unlimited money
TikTok Coin Generators: Fact or Fiction?
Le futur du TikTok : Les pièces gratuites
Your Ticket to Chat Domination: Free Coins in LivU Video Chat
Where to Find Free Spins in Coin Master: Your Guide
The Science of Avacoins Farming in Avakin Life
How to Get Credits in Bingo Blitz Effortlessly
Mastering Spins in Coin Master: Expert Insights
Free TikTok Coins: The Real Deal
TikTok Coin Hacks for Content Creators
Unlocking TikTok Coins: Insider Techniques
مولدي العملات TikTok: النجاح والفشل
Free TikTok Coins: Insider Secrets
TikTok Coin Farming Demystified
زيادة رصيدك من العملات في TikTok: نصائح مهمة
LivU Video Chat Free Coin Generator Scams: What to Avoid
Coin Master Free Spins Today: Quick Tips
Free Avacoins in Avakin Life: Insider Secrets