Extreme drought in northern Italy has doubled over the past two decades, creating a climate that increasingly mirrors that of Ethiopia and the Horn of Africa, research shows.
Analysis of satellite imagery and data by scientists reveals how global heating is creating a "whiplash effect", creating erratic extremes. The analysis of climate data released by WaterAid and Cardiff and Bristol universities finds that under extreme climate pressures, areas that used to experience frequent droughts are now more prone to frequent flooding, while other regions historically prone to flooding now endure more frequent droughts.
The southern Shabelle region of Ethiopia, which between 1980 and 2000 experienced numerous periods of flooding, is exhibiting a shift towards prolonged and severe drought, the analysis, published on Tuesday, shows. The Shabelle River, which is a major water source for Somalia, recently experienced the worst of the drought conditions in the Horn of Africa. The increased droughts are mirrored in northern Italy, and the research shows the number of intense dry spells experienced by both areas has more than doubled since 2000.
But as part of what researchers describe as a "climate hazard flip", the droughts in both regions are punctuated by extreme rainfall causing devastating flooding, which was experienced in the Lombardy region of Italy this summer.
The research examined the frequency and magnitude of flooding and drought hazards over the past 41 years in locations across six countries: Pakistan, Ethiopia, Uganda, Burkina Faso, Ghana and Mozambique. Italy was included as a European comparison.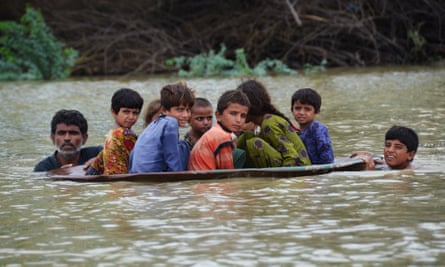 The flip of climate extremes is being experienced by millions of people living in some of the poorest areas of the world, where communities are often ill-equipped to deal with them, researchers say.
Tim Wainwright, the chief executive of WaterAid, said the climate crisis was a water crisis across the world. "Our climate has become increasingly unpredictable with devastating consequences," he said.
"From drought-stricken farmlands to flood-ravaged settlements, communities in Pakistan, Burkina Faso, Ghana and Ethiopia are all experiencing alarming climate whiplash effects; Uganda is experiencing ever more catastrophic flooding and Mozambique a chaotic mix of both extremes."
The research was published on the eve of the UN's Cop28 climate conference where funds to help communities adapt and become more resilient to the extremes of climate change will be on the agenda once more.
"It cannot be another summit where the climate adaptation can is kicked down the road," said Wainwright. "Our leaders must recognise the urgency and prioritise investment into robust and resilient water systems now."
WaterAid is calling on world leaders at Cop28 to prioritise clean water, decent sanitation and hygiene as key components of climate adaptation programmes as well as calling for rapidly scaled-up investment in water security in low- and middle-income countries.
The communities experiencing the climate flip from extreme weather are some of the least able to cope with it. In 2022, the village of Bachal Bheel in the Badin region of south-east Pakistan was devastated by catastrophic flooding that engulfed two-thirds of the country.
WaterAid spoke to people who had suffered in the flooding. Soni Bheel said when she was a child, local agriculture had prospered and villagers enjoyed robust health, but that her village was destroyed last year. Now 83, she said: "Our village was washed away in the flood, but it taught us a vital lesson: we must build our houses on higher ground to protect them from future floods. We're now elevating our homes with a 2-ft-high platform."
The data shows Mbale, an eastern region of Uganda in the shadow of Mount Elgon, is experiencing much wetter conditions, which has created unprecedented flooding over the past three years. WaterAid spoke to Okecho Opondo, a retired primary school teacher, who said the change in weather patterns was causing huge problems.
"We are in total confusion. The months that used to be rainy are now dry. When the rains come, they can be short yet heavy, leading to floods," she said. "On other occasions the rainy periods are too long, leading to destruction of infrastructure and crop failure. And then the dry periods can be very long, further leading to crop failure and hunger."
Katerina Michaelides, the professor of dryland hydrology at the University of Bristol Cabot Institute for the Environment and joint lead author of the research, said climate breakdown was not leading to monolithic change. "Instead, the hazard profile for any region is likely to change in unpredictable ways. These factors must be considered to support climate adaptation for the lives and livelihoods of humans across the globe."
Free Credits in Bingo Blitz: Insider Secrets
Boost Your Coin Master Progress with Free Spins
genshin impact step into a vast magical world of adventure
ZEPETO Zems Generator Scams: What to Avoid
match masters free daily gifts and boosters january 2023
Free TikTok Coins: Where to Find Them
Free Gems in Brawl Stars: Your Ticket to Victory
pdf hack genera tor 2022 hack no human survey 6r8f 8y
family island hack free rubies on android ios 2023
real free diamonds generator get free diamonds for hay day
download get free diamond litmatch apk for android apk4k
myths of moonrise 2023 redeem codes new gift code youtube
pull the pin hack mod unlocked no ads 153 0 1 modpda com
evony the kings return hack unlimited gems generator nifty gateway
rune factory 4 special archival edition announced for north
project makeover coins cash gems boosters hack and moves
beach buggy racing mod apk v2023 01 11 unlimited money
TikTok Coin Generators: Fact or Fiction?
Le futur du TikTok : Les pièces gratuites
Your Ticket to Chat Domination: Free Coins in LivU Video Chat
Where to Find Free Spins in Coin Master: Your Guide
The Science of Avacoins Farming in Avakin Life
How to Get Credits in Bingo Blitz Effortlessly
Mastering Spins in Coin Master: Expert Insights
Free TikTok Coins: The Real Deal