Wolves have returned to California after nearly 150 years. They bring an unexpected problem | California
A sinewy skull, two hooves and a shriveled hide are all that's left of the 650-pound cow.
"Wolf kill," said William McDarment, a rancher on the Tule River Reservation in Tulare county, California. "Picked clean in less than a week … See those tracks."
The prints are the size of McDarment's palm, and all around the carcass.
The land on the reservation is high desert meets alpine, 55,000 acres of scrub and redwoods bordering Sequoia national forest. About two years ago, the reservation – which has more cattle than people – was devastated by the Windy fire, which sparked in 2021 after lightning struck here. Years of drought made for perfect kindling and 97,000 acres burned, including many of the reservation's 300ft-tall sequoias. Losing some of the biggest trees on Earth was a spiritual hit for the Tule River Indian Tribe's 500 members.
"But it opened up the forest, which is good," says McDarment, who spent 30 years fighting wildfires for the US Forest Service. Fires supercharged grass growth, providing food for cows, and helping cash-strapped cowboys like him who rely on the land.
The fires brought another change: wolves.
After the blaze, the reservation became a perfect place for den sites and hunting. Wolves love open forests, too, and the reservation had plenty – plus beefy cows. In July, a gray wolf pack was spotted in nearby Sequoia national forest after a nearly 150-year absence in southern California. The pack – an adult female and four cubs – has left residents and wildlife enthusiasts cheering, but locals wonder if big predators belong in the modern world and what dangers they can be for cattle ranchers.
"You can't kill a wolf even if it kills your cattle because wolves are federally protected," McDarment adds. "So, what do we do?"
The problem is so much has changed since wolves were last in California. The species once roamed across America, but by the 1920s they were hunted to extinction in the Golden state.
There just wasn't enough space for people and the predator to coexist. But with conservation efforts and renewed legal protections wolves have made a comeback. About 6,000 now inhabit the lower 48 states. In California, they are protected by the state's Endangered Species Act, which amounts to a $100,000 fine or jail time.
Wolves officially came back to the Golden state in 2011. Since then, about 40 have entered, mostly claiming California's north-east corner. The new pack is 200 miles south in the Sequoia national forest, a stone's throw from the reservation, and a perfect hideout since "you can't hunt or ranch on national forest land", notes Jordan Traverso, the communications lead for California's department of fish and wildlife.
They need to hide, Traverso adds, because while many in California's left-leaning cities cheered the wolves' return, those living in and around them, like cattle ranchers, have little recourse if a wolf kills their livestock, which is why wolves are "so controversial".
These wolves aren't likely to wander into your big city backyard, but they are moving in search of territory and that's what's making people in Tulare county jittery. That also explains why California is actually a progressive paradox: it is both an environmental bellwether that influences everything from emissions to endangered species policy, which boosts conservation, but it's also filled with large-scale agriculture and industrial farming which can often pollute and destroy the land.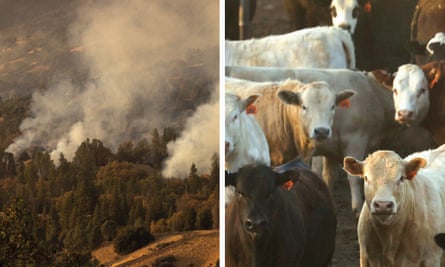 This push and pull is "ironic", notes Howie Wolke, "since we've destroyed nature for hundreds of years and now we want to protect it". Wolke spent 40 years as a wilderness guide, drafted legislation with Dick Cheney to protect 1m acres in Wyoming in the 1980s and served six months in prison after destroying a backcountry road.
He knows wildlife because he's lived around it his whole life, even seeing wolves kill elk from his porch in Montana. What's happening here is "part of a wider national battle about land and space. There's too many people," which causes tension "when a large predator comes home. Of course wolves will lose. But why do we assume we humans should decide whether wildlife lives or dies? If you, your wife, your kids and your dog have a right to exist, so do wolves."
No animal divides us like wolves, notes Traverso, who tells me that if "the public discover the new pack's exact location, even wildlife lovers", their days are "numbered".
That's because even locals like McDarment, who have lived in these mountains his whole life, are skeptical about wolves returning. "How did a male and female come 200 miles and meet here," he asked as we drove on the reservation. "This is darn rough country. Maybe the government flew them in?"
"We didn't," replies Traverso. "The wolves walked down looking for mates."
But last year, two captive wolf hybrids did escape from a nearby wolf sanctuary, says Tricia Stever-Blatter, who heads the Tulare County Farm Bureau. "Did more wolves escape?"
"The wild wolves aren't mine," says John Waller, who runs Kennedy Meadows Wild Canine Conservation with his wife Natalie just over the mountain from the reservation. When we speak, the heavyset Brit with a cowboy hat and military background admits their animals escaped when snowfall knocked down a fence. But they don't breed wolves here, they breed wolf-dog hybrids. And his fugitives only fled for two hours, he explains as he pets one of the escapees, a gray-coated female who licks his hand like a dog. "Truth is, I'm for the new pack. Our goal is to breed pure wolves and release them into the wild to help the species. We're waiting on permits, so it's a matter of time."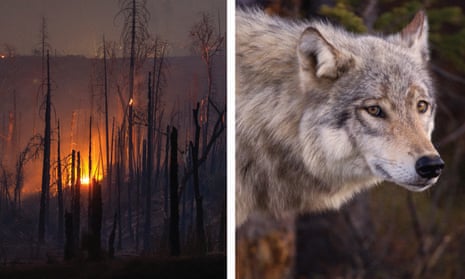 Ecologist Michelle Harris claims wolves have a right to return since "they've been here longer than we have. But saying that isn't popular," she adds, "this is ranching country."
We wouldn't know about the wolves if not for Harris. In July, the 28-year-old was behind the wheel of her Subaru when something darted across the road. She stopped the car as the creature trotted up a hill, paused in the trees and stared back at her. "Then it howled and I took its picture," Harris recalls, not flinching as a mosquito stings her forehead. "You can't have a healthy ecosystem without wolves. We should celebrate."
John Guthrie, 54, a sixth-generation cattleman in Porterville, says she misses the point. It's not that ranchers hate wolves, "it's the opposite. I respect nature but we need balance."
Guthrie, who also grows oranges, walnuts and almonds, hasn't lost any cows, but figures it's "only a matter of time". His cattle also graze around the forests wolves have reclaimed, but more than cows are at stake. "It's the livelihoods of families like mine."
That debate isn't happening, he says, because of a "rural-urban disconnect" that's "heavily political. A large segment of this country doesn't understand where our food comes from and how fragile that balance is. What do wolves mean for the everyday lives of those who provide food? I like wildlife, I live in it, but do we need wolves? You can't blindly say 'yes', and I don't think it's the wisest thing for people in cities to encourage."
Wolves are neither monster nor romantic symbol – and they rarely attack humans or livestock. When the government reintroduced 41 wolves to Yellowstone national park in 1995, ranchers in Montana and Wyoming were up in arms. Over the next eight years, wolves killed just 256 sheep and 41 cattle in those states (states with millions of livestock).
"Instead of decimating cows," Wolke says, "wolves reduced elk numbers, so willow and aspen trees came back. So did birds and beavers, which improved wetlands."
While no one knows how many cows have been killed here, wolves cause less than 4% of US cattle deaths. California is offering full market value for cow kills, but it's hard to prove that wolves are at fault, and usually requires DNA tests. "Just having wolves around spooks cows," Guthrie points out, "and that can prevent them from giving birth."
It seems wolves are all locals want to talk about. Fear is the central theme, says Greg King, the author of The Ghost Forest: Racists, Radicals, and Real Estate in the California Redwoods. "Ranchers fear for their livestock and humans fear for themselves. Fear is destructive. Maybe we can't have it all."
And when locals get spooked, wolves often pay the price. Case in point – December 2018, when a northern California rancher saw a wolf feeding on a calf. Investigators determined the calf probably died of pneumonia, but that wolf was found dead on the side of a road, riddled with .22 caliber rounds. A rancher was arrested, but officers couldn't prove that he pulled the trigger, so they let him go. That could happen here.
"Some ranchers have already taken matters into their own hands," McDarment admits. Guard dogs may be a fix, so could corralling cattle, but that's "hard to do with cows so spread out".
Free TikTok Coins: The Easiest Methods
How to Get TikTok Coins Legally and Quickly
Strategie per Monete TikTok Gratis: Consigli degli Esperti
The Future of Free Coins in LivU Video Chat: Trends and Predictions
Effortlessly Get Free Spins in Coin Master
Legit Ways to Get Avacoins in Avakin Life for Free
Free Credits in Bingo Blitz: Insider Secrets
Boost Your Coin Master Progress with Free Spins
genshin impact step into a vast magical world of adventure
ZEPETO Zems Generator Scams: What to Avoid
match masters free daily gifts and boosters january 2023
Free TikTok Coins: Where to Find Them
Free Gems in Brawl Stars: Your Ticket to Victory
pdf hack genera tor 2022 hack no human survey 6r8f 8y
family island hack free rubies on android ios 2023
real free diamonds generator get free diamonds for hay day
download get free diamond litmatch apk for android apk4k
myths of moonrise 2023 redeem codes new gift code youtube
pull the pin hack mod unlocked no ads 153 0 1 modpda com
evony the kings return hack unlimited gems generator nifty gateway
rune factory 4 special archival edition announced for north
project makeover coins cash gems boosters hack and moves
beach buggy racing mod apk v2023 01 11 unlimited money
TikTok Coin Generators: Fact or Fiction?
Le futur du TikTok : Les pièces gratuites