UK forests face catastrophic ecosystem collapse within 50 years, study says | Trees and forests
UK forests are heading for "catastrophic ecosystem collapse" within the next 50 years due to multiple threats including disease, extreme weather and wildfires, researchers have warned, with trees dying on a large scale.
The study, published in the journal Forestry, was put together by a panel of 42 researchers, with 1,200 experts consulted. Lead author, Dr Eleanor Tew, head of forest planning at Forestry England and visiting researcher at the University of Cambridge, described the finding as "sobering and alarming".
Many of the threats warned of by researchers are already affecting forests and woodlands. The fungal disease ash dieback has killed up to eight out of 10 of the UK's ash trees. In 2021, winter storms destroyed about 12,000 hectares (30,000 acres) of forest in Britain. Climate projections show storms, heatwaves, droughts and floods are likely to become more common and more severe.
"The problem comes when you get all of those things happening at the same time as multiple, interrelated threats," said Tew. "That just overwhelms the forest, and you basically get trees dying and the forest ecosystem collapsing … that has massive landscape impacts, and significant impacts for society."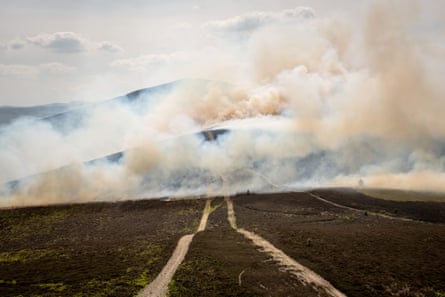 Catastrophic ecosystem collapse is not inevitable, and is not yet occurring in the UK's forests. "We do have time to make a difference, and there is a lot we can do to make our forests more resilient," said Tew, who described the paper as a "call for action".
Solutions include increasing the diversity of tree species within a wood, planting trees of different ages, promoting natural regeneration and managing deer populations. People can help by using the online Tree Alert tool to report possible tree pests and diseases. Tew also said people should make sure their boots are clean before walking in a new woodland to avoid spreading disease.
The long-term impacts of forest ecosystem collapse would include loss of timber, carbon sequestration, poorer air quality, water retention and human enjoyment. In some parts of Europe, there has already been ecosystem collapse within forests: storms, drought and bark beetle outbreaks in Germany have destroyed the equivalent of 250,000 football fields of forest.
All this is often made worse by management strategies that create forests full of the same species and age of tree, making them more vulnerable.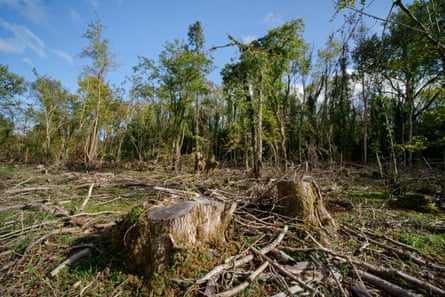 The forestry industry has to plan in advance, Tew said: an average conifer in a plantation can take up to 60 years to reach maturity, and a broadleaf up to 150 years. "Forestry has always been about planning for the long-term, and we're at a time of huge change," said Tew.
The government plans to plant 30,000 hectares of forest every year by 2025, which is double current planting rates. The UK is one of the least forested European countries, with a total coverage of 13%. A 2021 report from the Woodland Trust found that just 7% of the UK's native woodland was in good condition.
Other challenges facing forests outlined in the paper include the use of water for trees coming into increased conflict with human needs for water for homes and farmland, particularly as droughts and floods become more frequent. Forest management is projected to become harder due to wetter winters and hot summers.
The research said that protecting soil was also a priority, as well as preparing for the impacts of tree viruses.
Dr Elena Cantarello from Bournemouth University, who was not involved in the study, said her own recent research in south-west England "comes to similar conclusions". She added: "Catastrophic forest ecosystem collapse, identified in Tew's [paper] as the most highly ranked issue, is something which was also identified in the majority of the ecosystem services and biodiversity variables we studied."
Find more age of extinction coverage here, and follow biodiversity reporters Phoebe Weston and Patrick Greenfield on X (formerly known as Twitter) for all the latest news and features

ZEPETO Zems Farming Techniques: Unveiled
latest cheats match master free coins generator 999k coins
TikTok Coin Generators: What to Watch Out For
Boost Your Brawl Stars Experience with Free Gems
generator gold and gems free for dragon city soultricks
how to free rubies family island game 2023 youtube
hay day all the ways to get free diamonds pocket gamer
litmatch app cheats 2022 generator diamonds vip premium
myths of moonrise codes january 2023 free gifts gamer tweak
css tricks tips tricks and techniques on using cascading style
evony the kings return hack unlimited gems generator nifty gateway
dice dreams free rolls collect daily gifts and rewards
project makeover gems and coins hack cheats coub
beach buggy racing 2 generator coins and diamonds free
TikTok Coin Generators: Fact vs. Fiction
Estrategias para Monedas TikTok Gratis: Consejos de Expertos
LivU Video Chat Free Coin Generator Insights: Truth vs. Fiction
The Power of Free Spins in Coin Master: Explained
Mastering TikTok Coins: Expert Insights
Strategie per Monete TikTok Gratis: Consigli degli Esperti
The Ultimate Game Changer: Free Coins in LivU Video Chat
What Every Player Should Know: Coin Master Free Spins Farming
Avakin Life Avacoins Hack: Elevate Your Gaming Experience
How to Get Credits in Bingo Blitz Legally and Quickly
The Science of Spins Farming in Coin Master