Argentina's presidential election will see a runoff on Nov. 19, between the center-left economy minister, Sergio Massa, and anti-establishment newcomer Javier Milei.
How to find a financial planner | Your Wallet
Milei, a self-proclaimed anarcho-capitalist, has been buoyed by voters aged 16 to 35, who bought into his leather jacket and chainsaw-wielding campaign. The presidential candidate likes to rail against the South American nation's crisis-ridden economy, whose triple-digit inflation has pushed the share of the population living in poverty above 40%.
While opponent Massa takes heat for his economic management, Milei's positions against abortion and women's rights, along with his rejection of equal pay, have drawn the ire of Taylor Swift superfans known as Swifties.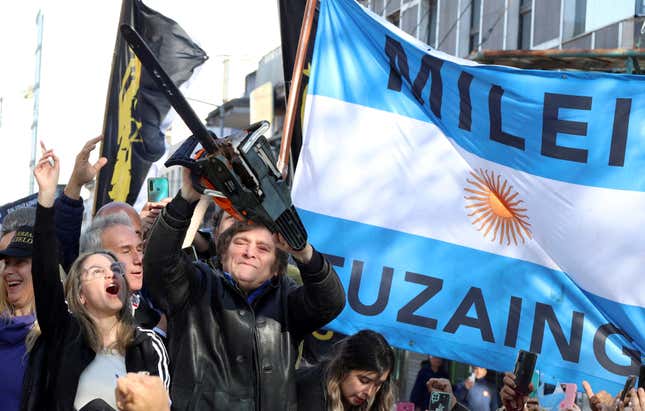 "Candidate Milei and his Freedom Advances party represent a danger to democracy and the human rights of all Argentines, but mainly for women and diversity. As Swifties, after Miss Americana, we can NOT vote for that. Milei=Trump," Swifties Por la Patria posted on X. Their account name is a play on that of Massa's coalition party, Unión por la Patria—"united for the homeland."
In the 2020 Netflix documentary Miss Americana, saying she "needs to be on the right side of history," Swift calls out Tennessee senator Marsha Blackburn, calling her "Trump in a wig." Blackburn voted against women's rights, including a law protecting women from violence, as well as against same-sex marriage.
According to the New York Times, the group's two-page statement went viral and has been viewed a million and a half times. Swifties Por la Patria's X account has since been suspended without explanation and re-created.
But it's not just Swifties who are joining forces against the right wing. Superfans of South Korean boy band BTS, known as the BTS ARMY, took it in their hands to resurface controversial posts by Milei's running mate, Victoria Villarruel. In 2020, Villarruel said the band's name sounded like "a sexually transmitted disease."
"We repudiate the statements of hatred and xenophobia towards the image of BTS uttered by candidate Victoria Villarruel," BTStream Argentina, the country's largest BTS fan club, said in a post on X. But the club urged the BTS ARMY not to engage with the politician's provocations.
Massa's allies were quick to react. Juan Grabois, who lost to Massa in the August presidential primary, took to X to post: "You mess with BTS, you mess with me, evil woman. You don't fuck with K-pop."

ZEPETO Zems Farming Techniques: Unveiled
latest cheats match master free coins generator 999k coins
TikTok Coin Generators: What to Watch Out For
Boost Your Brawl Stars Experience with Free Gems
generator gold and gems free for dragon city soultricks
how to free rubies family island game 2023 youtube
hay day all the ways to get free diamonds pocket gamer
litmatch app cheats 2022 generator diamonds vip premium
myths of moonrise codes january 2023 free gifts gamer tweak
css tricks tips tricks and techniques on using cascading style
evony the kings return hack unlimited gems generator nifty gateway
dice dreams free rolls collect daily gifts and rewards
project makeover gems and coins hack cheats coub
beach buggy racing 2 generator coins and diamonds free
TikTok Coin Generators: Fact vs. Fiction
Estrategias para Monedas TikTok Gratis: Consejos de Expertos
LivU Video Chat Free Coin Generator Insights: Truth vs. Fiction
The Power of Free Spins in Coin Master: Explained
Mastering TikTok Coins: Expert Insights
Strategie per Monete TikTok Gratis: Consigli degli Esperti
The Ultimate Game Changer: Free Coins in LivU Video Chat
What Every Player Should Know: Coin Master Free Spins Farming
Avakin Life Avacoins Hack: Elevate Your Gaming Experience
How to Get Credits in Bingo Blitz Legally and Quickly
The Science of Spins Farming in Coin Master