Global health and environmental costs of food industry are $10tn a year – UN | Global development
The health and environmental damage caused by food production costs the world $10tn (£8tn) a year, or 10% of global GDP, the UN said.
Conditions such as diabetes and heart disease, the consequence of poor diets, account for $7.3tn, according to the Food and Agriculture Organization (FAO), which has put a "price tag" on the hidden costs of the global food industry in its annual report, published on Monday.
"In the last [few] years people have realised planetary boundaries have been put under pressure and, in many cases, crossed," said David Laborde, director of the FAO agrifood economics division.
"While food is central to our life, it also has significant impact on the environment and health," he said. "Assigning them a value is one way to quantify these different impacts."
But he added: "We should not just enter this debate with a high-income lens. In the global north, the public discourse has long included discussion of ecosystems and unhealthy diets, but the cost of poverty and malnourishment is overlooked."
The report said current food systems increased poverty in low-income countries. Many farmers in poorer countries did not fully benefit from the value of their produce, as they often sold on their crops to traders and manufacturers, who made the profit, it said. This left farmers unable to afford nutritious diets.
"In Uganda, for example, the hidden cost of agricultural system is 20% of GDP; 70% of that is linked to poverty," said Laborde.
The FAO director said he expected the financial burden to rise in the coming years as countries became wealthier and ultra-processed food, sugar and fats made up a bigger part of diets.
"Twenty years ago, hunger and malnutrition was still common in many of today's middle-income countries," Laborde said. "Today we know that if you did not have enough to eat when you were growing up, you become more prone to diet-related diseases as an adult."
A 2020 British Medical Journal study found that experiencing severe malnutrition or famine as a child raised the risk in later life of cardiovascular disease, impaired glucose metabolism and metabolic syndrome (a cluster of medical conditions – such as obesity, high blood pressure, high blood sugar – that increase the risk of heart disease, stroke and type 2 diabetes).
Laborde called this combination of overnutrition (obesity) and undernutrition (stunting) "a double burden of malnutrition", adding: "High-income countries do not have problems like these.
"So in fact unhealthy diets can become even more problematic for middle-income countries than they are in high-income countries," he said.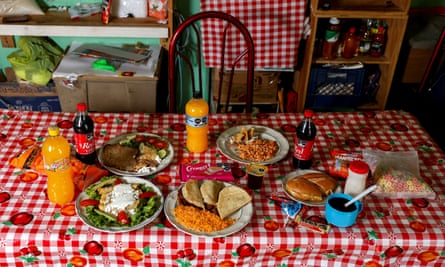 "If we want middle-income countries to not follow the trajectory of other wealthy economies, they have to tackle the issue of healthy diet front and centre, and concentrate on prevention. Because once someone develops diabetes, they cannot revert back."
These non-communicable diseases (NCDs) have traditionally been considered a problem specific to the global north, while public health policies in the global south have concentrated on preventing infectious diseases, such as HIV. But today 74% of deaths worldwide are caused by NCDs and 77% of these happen in low- and middle-income countries.
Liz Arnanz, from NCD Alliance, a global organisation fighting these diseases, said: "Unhealthy products have industries behind them.
"Growing economies are seen as new markets for these industries; often they are attracted by lack of regulation or lack of capacity to enforce the regulation. At the moment we can, for example, see the alcohol industry targeting African countries very aggressively."
But many middle-income countries are proactively responding to the growing threat of unhealthy foods and products. In Latin America, NCDs account for 70-85% of deaths, but the region had become a global leader on implementing preventative policies, Arnanz said.
"Just this week, Colombia has started implementing taxation not only on sugary drinks but also junk food," she added. Noting that this was a more robust stance than that of many wealthy countries, Arnanz said the availability of healthy and nutritious food was not a matter of personal choice but political policy.
Laborde said that reducing the health and environmental costs of food production did not have a universal solution.
"We can't just increase the price of food and hope that the market will solve the problems," he said. "For example, if we simply increase the price of steak to reflect some of the hidden costs associated with its production, it will not be the rich people who reduce their meat consumption.
"The solutions are more multifaceted; in some cases it's education, in others, school feeding programmes. We can do a lot, but not if we oversimplify."
The FAO plans to outline solutions to improve global health next year.
ZEPETO Zems Farming Techniques: Unveiled
latest cheats match master free coins generator 999k coins
TikTok Coin Generators: What to Watch Out For
Boost Your Brawl Stars Experience with Free Gems
generator gold and gems free for dragon city soultricks
how to free rubies family island game 2023 youtube
hay day all the ways to get free diamonds pocket gamer
litmatch app cheats 2022 generator diamonds vip premium
myths of moonrise codes january 2023 free gifts gamer tweak
css tricks tips tricks and techniques on using cascading style
evony the kings return hack unlimited gems generator nifty gateway
dice dreams free rolls collect daily gifts and rewards
project makeover gems and coins hack cheats coub
beach buggy racing 2 generator coins and diamonds free
TikTok Coin Generators: Fact vs. Fiction
Estrategias para Monedas TikTok Gratis: Consejos de Expertos
LivU Video Chat Free Coin Generator Insights: Truth vs. Fiction
The Power of Free Spins in Coin Master: Explained
Mastering TikTok Coins: Expert Insights
Strategie per Monete TikTok Gratis: Consigli degli Esperti
The Ultimate Game Changer: Free Coins in LivU Video Chat
What Every Player Should Know: Coin Master Free Spins Farming
Avakin Life Avacoins Hack: Elevate Your Gaming Experience
How to Get Credits in Bingo Blitz Legally and Quickly
The Science of Spins Farming in Coin Master