A former fracking site in the North Yorkshire village of Kirby Misperton, once a lightning rod for environmental protests, may soon be a new frontier in Britain's clean energy revolution. For the first time in the UK, an abandoned gas well could begin a second life as a source of geothermal energy.
It is a far cry from its beginnings as a highly contested site where frackers hoped to tap fresh reservoirs of gas trapped in layers of shale beneath the earth's surface. In 2016, Third Energy was granted permission to carry out fracking at an existing well but its plans were ultimately thwarted by a government moratorium on using the technology in the UK.
The transformation is being led by CeraPhi Energy, made up of a team of former oil and gas veterans who plan to use their expertise in drilling for fossil fuels to harness the potential for renewable energy lying dormant beneath the earth's surface.
After 30 years in the fossil fuel sector, Karl Farrow founded the company in 2020, in the midst of the Covid-19 pandemic. The plan, he said, was to bring together people with deep expertise in the oil and gas industry to unlock a new source of clean energy.
"The first thing we did when we got the keys to the gates was to invite the leaders of the local anti-fracking groups around to see what we were planning for the site," he said. "I think many of them see this project as a kind of closure. We're doing something positive here. So all their work in trying to prevent fracking is now likely to lead to clean energy as a result."
For the company it was a "natural transition" to reuse their existing drilling expertise and infrastructure to tap the renewable energy below. Drilling for fossil fuels and drilling for geothermal is "virtually identical", Farrow said. "The only difference is that you're effectively extracting a renewable energy source rather than a fossil fuel."
Typically, harnessing geothermal energy involves drilling a borehole to depths of about two to three miles, to flow cold water at low pressures through the hot rocks beneath the Earth's surface. Then, a second borehole returns the warm water to the surface where it can be used to heat homes and businesses or generate electricity.
Unlike fracking there is very little environmental risk. The well is sealed and the water lines operate in a closed loop system meaning there is no exposure to the subsurface. "Think of pushing a test tube into some sand. It creates a completely sealed environment," Farrow said.
The Kirby Misperton project is at its final testing phase: so far the results have proven Farrow's theories and engineering calculations. In some cases he says they were better than expected. His team had anticipated temperatures of 90 degrees Celsius at the base of the wells, but instead recorded temperatures of 110 degrees. Farrow hopes to share the findings with the community, local authorities and government bodies to make the case for Britain's geothermal potential.
"In the next few months we will hopefully start developing the site and wells into real projects," he said. Ultimately, Farrow expects the heat captured from geothermal wells to be used in local heat networks used to warm blocks of flats, schools, hospitals, office parks or leisure centres.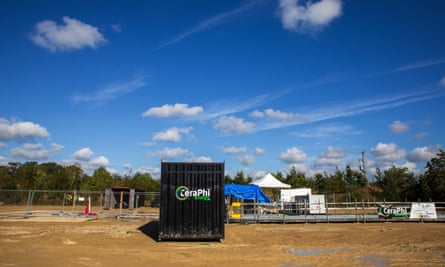 "I think it's the only direct competitor in respect of gas heating," Farrow said. "I think it could honestly make up 15-20% of the energy mix for heat going forward, if not more." To date, major oil companies have treated geothermal as "a bit of a science project" but Farrow believes the world is now moving towards a "geothermal decade".
CeraPhi has nine potential geothermal projects in the UK, but Farrow says the burgeoning industry still needs a push for government to accelerate the pace at which it can play a role in decarbonising heating.
The UK's early steps into geothermal energy include a project in Seaham, County Durham, which will use water from mineshafts to heat 1,500 new homes, and a scheme at the Eden Project in Cornwall, which generates heat to warm Eden's indoor rainforest and Mediterranean biomes as well as offices, kitchens and greenhouses.
Geothermal energy offers a potential source of clean heating – but also a serendipitous economic boost for many of the areas that the government has found are in the greatest need of new investment as part of its levelling up plan.
Research by the University of Durham has found these include Redcar and Cleveland, Middlesbrough, East Lindsey, Hartlepool, Northumberland and Bassetlaw, which all appear in the top 10 of the index used by government to identify local authority areas in need of levelling up. Other areas well-suited to producing geothermal heat and electricity include Newcastle upon Tyne, North East Derbyshire, the East Riding of Yorkshire and Nottingham.
In theory, the UK has enough geothermal energy trapped underground to heat every home for a hundred years. Even by conservative estimates that account for realistic commercial and logistical limits, geothermal energy could help the UK to cut its imports of fossil fuels and rely only on the North Sea for its gas.
"Geothermal still has a very low profile," he said. "It needs to come out of the shadows into the light."
ZEPETO Zems Farming Techniques: Unveiled
latest cheats match master free coins generator 999k coins
TikTok Coin Generators: What to Watch Out For
Boost Your Brawl Stars Experience with Free Gems
generator gold and gems free for dragon city soultricks
how to free rubies family island game 2023 youtube
hay day all the ways to get free diamonds pocket gamer
litmatch app cheats 2022 generator diamonds vip premium
myths of moonrise codes january 2023 free gifts gamer tweak
css tricks tips tricks and techniques on using cascading style
evony the kings return hack unlimited gems generator nifty gateway
dice dreams free rolls collect daily gifts and rewards
project makeover gems and coins hack cheats coub
beach buggy racing 2 generator coins and diamonds free
TikTok Coin Generators: Fact vs. Fiction
Estrategias para Monedas TikTok Gratis: Consejos de Expertos
LivU Video Chat Free Coin Generator Insights: Truth vs. Fiction
The Power of Free Spins in Coin Master: Explained
Mastering TikTok Coins: Expert Insights
Strategie per Monete TikTok Gratis: Consigli degli Esperti
The Ultimate Game Changer: Free Coins in LivU Video Chat
What Every Player Should Know: Coin Master Free Spins Farming
Avakin Life Avacoins Hack: Elevate Your Gaming Experience
How to Get Credits in Bingo Blitz Legally and Quickly
The Science of Spins Farming in Coin Master