Politicians, not public, drive U-turns on green agenda, says UN biodiversity chief | Environment
Government backtracking on environmental promises is being driven by politicians and vested interests, not the public, the acting UN biodiversity chief has said, as he called for greater support for those experiencing short-term costs from green policies.
David Cooper, acting executive secretary for the UN convention on biological diversity (CBD), told the Guardian he believed the public mood was not moving against greater environmental protections, and that vested interests opposed to action on the climate crisis and nature loss were trying to frustrate progress.
The comments come after a series of backtracks on climate commitments by the UK government and a political backlash against nature restoration policies in the EU from farming, forestry and fishing industries.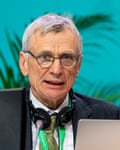 Less than a year after governments agreed this decade's targets to halt the destruction of the natural world, Cooper said that while meeting some climate and biodiversity targets required short-term tradeoffs, they were vital for maintaining a habitable planet now and in the future.
"I don't accept that the public mood as a whole is moving against the environment. The public as a whole, and particularly young people, see this as more and more important," said Cooper.
"We see some backtracking in different parts of the world but a lot of this is political groups trying to find wedge issues to gain a marginal advantage in an upcoming election," he said. "When the public are allowed to express their views, they come up with good decisions."
He cited the recent citizens' assembly on biodiversity in Ireland and the vote in Ecuador against continuing with oil and gas exploration in the Amazon rainforest as moments when the public had pushed for stronger environmental protections.
"People are actually ahead of the governments. We must not allow ourselves to be persuaded that there is a pushback by the public as a whole," he said.
Cooper said he accepted there were sometimes costs in the short term to environmental policies, but said governments should work with communities who felt threatened to find a way forward.
"[The pushback] is partly led by politicians speaking to their base and … vested interests that will do what they can to deny some of the issues we're facing in climate change, biodiversity loss and the like," Cooper added.
"The goals and targets of these environmental agreements are ambitious. They're not easy to achieve, and they're not going to be achieved only by incremental action, even though that's an important part of it," he said.
"But it is very clear that it's absolutely essential to meet them if we want a habitable planet, perhaps even for ourselves, but certainly for our children."
This article was amended on 11 October 2023 to reflect that Cooper cited the citizens' assembly on biodiversity loss in Ireland, not the UK-wide citizen's assembly on nature. This was due to an editing error.
TikTok Coin Hacks: Boost Your Account for Free
Free TikTok Coins: The Future of Social Media
Sblocca Monete Gratis su TikTok: La Guida Definitiva
Unlimited TikTok Coins: Myth or Reality?
TikTok Coin Hacks for Rapid Growth
Steigern Sie Ihr TikTok-Konto mit Kostenlosen Münzen
TikTok Coin Farming: What You Need to Know
TikTok Coin Generators: What to Watch Out For
Maximisez votre solde de pièces sur TikTok : Conseils essentiels
Free TikTok Coins: Your Path to Fame
Free TikTok Coins: Insider Secrets
مولدي العملات TikTok: كيفية اختيار الأدوات الصحيحة
TikTok Coin Hacks for Rapid Growth
TikTok Coin Farming Techniques: Unveiled
Recommandations d'experts : Le hack des pièces TikTok
Free TikTok Coins: Insider Secrets
TikTok Coin Farming: Tips for Success
Ganar Monedas Gratis en TikTok: Guía Paso a Paso
TikTok Coin Hacks for Rapid Growth
TikTok Coin Farming: Tips for Success
Iniciándote en las Monedas de TikTok: Guía para Principiantes
The Power of TikTok Coins: Explained
A Deep Dive into TikTok Coin Generation
طرق مضمونة للحصول على العملات في TikTok
TikTok Coin Hack: A Comprehensive Overview