Chunks of a 4.6bn-year-old asteroid brought to Earth last month show evidence of high levels of carbon and water, Nasa said on Wednesday as the space agency revealed preliminary findings from its pioneering Osiris-Rex mission.
Scientists have been analyzing the samples from the asteroid Bennu since they were dropped off by a spacecraft flyby of the Utah desert on 24 September. Principal investigator Dante Lauretta of the University of Arizona, Tucson, told reporters at Houston's Johnson Space Center (JSC) they were "scientific treasure".
The carbon-rich asteroid fragments, the largest such haul ever recovered, "will help scientists investigate the origins of life on our own planet for generations to come", Nasa administrator Bill Nelson said.
The researchers also announced the mission that brought the samples to Earth after a three-year journey of almost 60m miles was even more successful than first anticipated.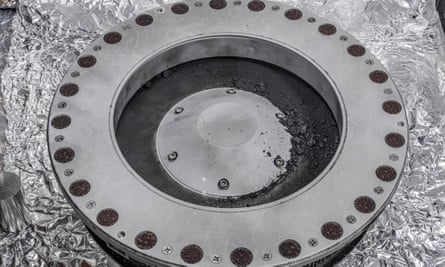 The original goal of the mission was to collect a little more than 2oz (60g) of asteroid material that would be studied by curation experts in new clean rooms at JSC built specifically for the mission.
But when the canister lid was first opened, scientists discovered "bonus asteroid material" covering the outside of the collector head, canister lid and base. There was so much extra material, Nasa said, it delayed the detailed process of collecting and containing the primary sample.
"It's been going slow and meticulous," Lauretta said, telling the press conference that black dust and particles were scattered around the outside edge of the chamber. "This is already scientific treasure".
So far, only a "quick-look" analysis has taken place, including imaging by a scanning electron microscope, infrared measurements, X-ray diffraction and chemical element analysis.
X-ray computed tomography was also used to produce a three-dimensional computer model of one of the particles, Nasa said, highlighting its diverse interior. It was this early look that provided evidence of abundant carbon and water in the sample.
Nelson stressed the research to date provided only a preliminary assessment, and that the real work was about to begin.
"Almost everything we do at Nasa seeks to answer questions about who we are and where we come from. Missions like Osiris-Rex will improve our understanding of asteroids that could threaten Earth while giving us a glimpse into what lies beyond," he said.
"The sample has made it back to Earth, but there is still so much science to come… science like we've never seen before."
The rocks and dust from the asteroid will be studied "for decades to come", according to a Nasa press release accompanying the reveal. They would, the statement said, "offer insights into how our solar system was formed, how the precursor materials to life may have been seeded on Earth, and what precautions need to be taken to avoid asteroid collisions with our home planet".
"The bounty of carbon-rich material and the abundant presence of water-bearing clay minerals are just the tip of the cosmic iceberg," Lauretta said.
"These discoveries, made possible through years of dedicated collaboration and cutting-edge science, propel us on a journey to understand not only our celestial neighborhood but also the potential for life's beginnings. With each revelation from Bennu, we draw closer to unraveling the mysteries of our cosmic heritage."
During the next two years, scientists will continue "characterizing" the samples. At least 70% of them will remain at JSC for further research by experts from the US and worldwide. Additional samples will be loaned to the Smithsonian Institution, Space Center Houston and the University of Arizona for public display.
Meanwhile, the Osiris-Rex mission, managed by Nasa's Goddard Space Flight Center in Greenbelt, Maryland, continues. After dropping off the Bennu samples, the spacecraft resumed its fight towards an encounter with the asteroid Apophis in 2029 when it makes its closest approach to Earth.
Apophis had been thought to pose a threat to Earth in 2068, but was removed from the European Space Agency's "risk list" two years ago.
Ganando Monedas Gratis: Desafíos y Recompensas en TikTok
Unlocking TikTok Coins: Proven Strategies
Boost Your TikTok Influence with Free Coins
كيفية جمع العملات TikTok بدون مخاطر
Free TikTok Coins Today: Quick Tips
Free TikTok Coins: Where to Find Them
Consejos de Seguridad para Ganar Monedas TikTok Gratis
TikTok Coin Hacks: What Experts Recommend
TikTok Coin Generator Scams: Avoiding Pitfalls
Segreti per Raccogliere Monete Gratis su TikTok
The Art of Earning TikTok Coins
How to Get TikTok Coins Legally and Quickly
Obtenez des pièces TikTok gratuitement en quelques étapes simples
TikTok Coin Generator Safety Tips
Free TikTok Coins: The Future of Social Media
TikTok-Münzgeneratoren: Mythos vs. Realität
TikTok Coin Generators: Fact or Fiction?
Boost Your TikTok Engagement with Free Coins
Les générateurs de pièces TikTok en valent-ils la peine ?
TikTok Coin Farming Demystified
Are TikTok Coin Generators Worth It?
مولدي العملات TikTok: هل يجب تجربتها؟
Boost Your TikTok Engagement with Free Coins
Unlimited TikTok Coins: Myth or Reality?
Devenez un pro de l'obtention de pièces gratuites sur TikTok