Sport England tells its sports: fight climate crisis or you'll get no funding | Sport England
Sport England, which invests more than £300m of public money every year, intends to ask sports to do far more to fight the climate crisis as a condition of receiving funding, the Guardian can reveal.
The radical move was signalled by the funding body's chair, Chris Boardman, who said that while his organisation planned to work closely with sports to help them decarbonise and better protect the environment "the status quo is no longer an option".
"Without veering into hyperbole, it's so that we don't all die," Boardman told the Guardian. "It's just a massive topic for everybody. It's the biggest topic that we will face."
Sport England provides between £10m and £25m to a number of major sporting bodies over a five-year period – including British Cycling, England Netball, the Rugby Football Union, the England and Wales Cricket Board, Swim England and England Athletics – as well as smaller sums to hundreds of other groups to fund grassroots sport and get more people active.
But Boardman, an Olympic and world champion cyclist before moving into TV commentary and sports governance, acknowledged that sport as a whole needed to step up when it came to the climate crisis.
"Sport England is an organisation that has huge influence," he said. "We deal with hundreds of partners, who deal with millions of people. So we have a responsibility to do something, and we are going to. I feel both good about it and quite scared at the same time, because it is so big."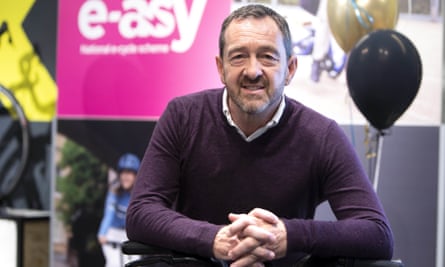 Meetings with sports will begin next month, with Boardman hoping that a roadmap will be in place in December. It will mean that Sport England's code of conduct – which all organisations sign before they get funding – will also include their plans to fight the climate emergency.
"Fundamentally we have got to move from a position of 'inform and encourage' to one of 'enable and require'," he said. "That's essentially what it is: to shift from talking about it, and using language that gives people a way out, to say: 'No, we have to do this.'"
Boardman stressed that some sports were already stepping up, pointing to the work being done to make swimming pools more energy efficient. He also highlighted small steps, such as the LTA replacing all its lightbulbs with LED lights and its gas stoves going electric, as illustrations of what could be done.
"In a sense it's like marginal gains in sport, ironically," said Boardman. "Rather than set a large target years in the future, we are asking what small things we can do now and what will that add up to? And I suspect it will be an awful lot."
Boardman acknowledged that some steps might take longer than others. "We won't automatically stop 3G pitches now but we know that they're really bad for the environment," he said. "We will need to find an alternative. So we'll take tangible steps and set targets both for ourselves and with partners so that we can at least track progress, which is what I did as an athlete."
Boardman will set out Sport England's new position at the Blue Earth Summit in Bristol on Thursday, where he is expected to say that if global temperatures increase by more than 1.5C above pre-industrial levels we risk seeing irreversible impacts, with deprived communities the most affected.
He will also warn that the effects on sport and physical activity will also be profound. And that 23 out of the 92 English league football grounds – a quarter in total – can expect temporary or permanent flooding by 2050.
"Sport emotionally connects with people," added Boardman. "And we have seen the impact that people like Marcus Rashford have. So there's an influencing aspect here, but it's also recognising that everybody in the country is going to have to do this. It's almost inevitable."
dragon city hack gems mod dragoncityhackgems
family island hack cheats readme md at master github
hay day free diamonds generator without human verification
get free diamond in litmatch apk download for android
myths of moonrise gift redeem code tutorial andriod iphone
pdf portable generator buffalo tools
evony the king s return v4 25 0 mod apk unlimited gems money
dice dreams free rolls link squarespace
project makeover free gems coins app download 2023 gratis
beach buggy racing mod apk v2023 01 11 unlimited money
Free TikTok Coins: The Game Changer
Generadores de Monedas TikTok: ¿Vale la Pena Usarlos?
Unlocking Free Spins in Coin Master: Insider Techniques
Get Free Avacoins on Avakin Life: Tips and Tricks
Bingo Blitz Credits Generator Risks: The Truth
The Future of Spins in Coin Master: Trends and Predictions
genshin impact codes for january 2023 and how to redeem codes
Boost Your ZEPETO Experience with Free Zems
match master free coins 62594 publisher publications issuu
Free TikTok Coins: The Game Changer
Brawl Stars Gems Generator Scams: What to Avoid
easy working free dragon city gems generator
family island hack free rubies energy cheat new pexels
hay day hack mystery box and diamonds 2022 cheaterboss com
litmatch mod apk 6 3 2 0 unlimited diamond techzapk