How England's churches are making an uneasy peace with the bats in their belfries | Mammals
High above the pews of All Saints church in Thornham, north Norfolk, a roost of soprano pipistrelle bats have made their home. The nooks and crannies of the medieval church are perfect entry points for the winged mammals, whose bodies are about the size of a thumb. In the warmer months, they emerge every evening from the rafters as darkness falls.
"They like our church," says Janet Needham, the warden, over tea and chocolate digestives in the church library.
"The other day, someone asked me if bats are religious. I always say they are Anglican," adds Diana Spencer, the Bats in Churches engagement officer for East Anglia. "It's safe, it's dry, there are insects in here, they can feed, there're no predators, no rain, it's dark. They just like it."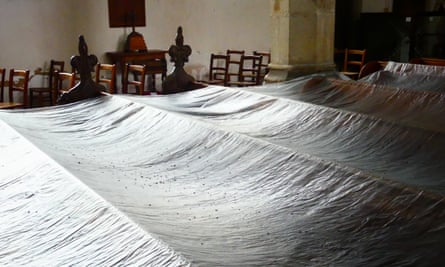 The feeling has not always been mutual. The mess caused by sharing an old church with a colony of bats – which have formed nationally significant roosts in the buildings – has threatened some churches with closure, as droppings and urine built up, damaging artefacts that had survived Henry VIII and the English Reformation.
Thornham is one of more than 100 historic churches in England that have received support from the £5m Bats in Churches scheme, which was launched in 2019 to help resolve the growing problem of human-wildlife conflict caused by bat damage.
"If they're not a happy church, the first thing you'll hear is: 'We don't like the bats, we want rid of the bats,'" says Spencer. "But actually, once you start talking to them, it's not the bats; it's the mess, it's the urine, it's that they're causing damage to something. When they try and do a tea and coffee morning, as soon as the drinks come out, there is bat mess in them. That's the bit that winds people up, understandably," she says.
In Thornham, before the project, the front pews were covered with polythene to catch the droppings, which peaked during the bat breeding season in high summer. It made it hard to hold services, weddings and events for the 15-strong congregation. Now, bat boxes and specially heated roosts have been installed to encourage the winged mammals to make their home away from areas that are disruptive in the church.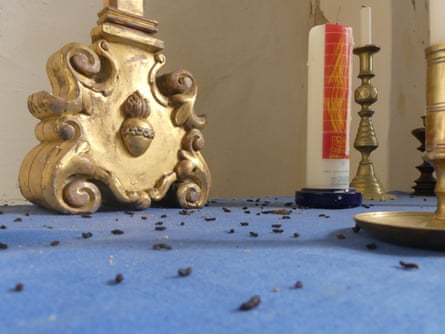 The Heritage Fund grant has helped pay for cleaning and mitigation work at the most affected churches in a five-way partnership between the Bat Conservation Trust, the Church of England, Natural England, Historic England and the Churches Conservation Trust. At least two church have been saved from closure, and dozens of roosts have been protected. They include the incredibly rare grey long-eared bat whose numbers have dropped to about 1,000, which was recorded at a church in Somerset.
Some of the most successful interventions have been low-cost, according to the project, such as using canopies and covers to protect areas from being damaged, and buying vacuum cleaners and brushes.
As part of the Bats in Churches project, 753 churches have been surveyed, finding 12 of the country's 18 species, which are protected by law after historic declines in their populations.
Spencer says the churches have also become an important national source of information on bat populations and their habits. "We've learned so much … over the last five years monitoring bats in these churches. Every time someone does a survey, we learn something new," she says.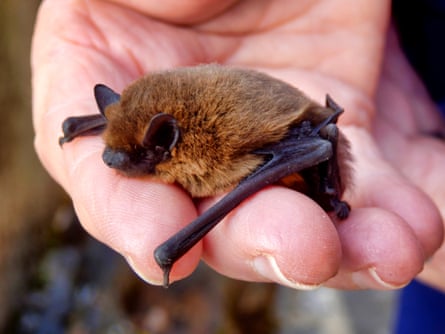 In Norfolk, which has a particularly high number of medieval churches that are home to bats, many have been surveyed by the ecologist Phil Parker, a self-confessed bat enthusiast who sometimes sleeps overnight in churches to complete his work. Parker has set up cameras in the bat boxes at Thornham to monitor numbers. Four species have been recorded at the church – soprano pipistrelles, long-eareds, common pipistrelles and serotines.
"Several times we've been in a church where young bats have been flying. You can always tell the difference: the adults will be up high in the roof flying around purposefully and the youngsters will be really low over the pews," says Parker, who also monitors church Facebook groups for signs of bat activity. "I have had them land on me. They just sit there looking at you. It is an honour to see it close up."
Free TikTok Coins: The Future of Social Media
Consigli per la Sicurezza nel Guadagnare Monete TikTok Gratis
Free Coins on TikTok: Tips and Tricks
How to Earn TikTok Coins: Step-by-Step Tutorial
العملات TikTok المجانية: مستقبل محتوى TikTok
Legit Ways to Get TikTok Coins for Free
How to Earn TikTok Coins: Step-by-Step Tutorial
Die Auswirkungen von TikTok-Münzen auf Ihr Profil
Free TikTok Coins: Where to Find Them
Free TikTok Coins: Insider Secrets
Consigli per la Sicurezza nel Guadagnare Monete TikTok Gratis
Earn Free Coins on TikTok Like a Pro
How to Get TikTok Coins Legally and Quickly
Générateurs de pièces TikTok : Mythe ou réalité ?
Get Free Coins for TikTok: Top Methods
The Art of Earning TikTok Coins
Plongée approfondie dans la génération de pièces sur TikTok
TikTok Coin Hack Myths Debunked
Are TikTok Coin Generators Worth It?
Generadores de Monedas TikTok: Realidad vs. Ficción
TikTok Coin Generators: Fact or Fiction?
Free TikTok Coins Today: Quick Tips
TikTok-Münzgeneratoren: Sind Sie es Wert?
How to Get TikTok Coins Legally and Quickly
TikTok Coin Hacks for Rapid Growth