On a quiet summer evening last month, the crew of the Northern Expedition spotted a dark shape surfacing from the water off Canada's west coast. Earlier that day, crew on the passenger ferry had made a similar sighting, and only narrowly avoided striking the humpback whale by ordering the ferry's powerful engines to be reversed.
This time, the momentum of the 150-metre vessel was too much. It struck the hulking cetacean, sending the dull, jarring sound of metal against tissue reverberating throughout the ship. The crew were devastated; the head of BC Ferries called the collision "disturbing". Nobody knows if the whale survived.
Collisions between large whales and even larger ships have been growing more common as marine traffic increases, including a spate of deadly collisions this summer (the same ferry struck another humpback a month earlier). Now, with the opening of a huge new liquid natural gas (LNG) terminal in 2025, transforming the deep fjords of northern British Columbia into a crowded marine highway, researchers are warning of a likely "dire" increase in whale deaths.
The nutrient-rich waters here were home to storied whale populations until widespread whaling nearly pushed species of humpback and fin whale to local extinction. However, an end to widespread slaughter has allowed populations to rebound, and now fin whales – which can reach 27 metres (90ft) in length and weigh as much as 70 tonnes – have been spotted traversing the frigid waters of the Kitimat fjord system, where they were once spotted in far larger numbers by the ancestors of the Gitga'at First Nation. Humpbacks – 18 metres long and 40 tonnes – have also been spotted in record numbers.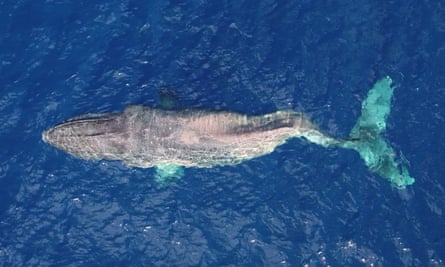 But the plight of Moon, a severely injured humpback that travelled thousands of kilometres from Gitga'at territory to Hawaii with a broken back, underscores the whales' new foe. It is only expected to worsen when one of Canada's largest fossil fuel investments becomes operational.
The LNG Canada project, initially envisioned as a way of moving large amounts of methane gas from Canada to Asia, has taken on new urgency as the war in Ukraine spurs nations to scramble for gas. A multibillion-dollar joint venture between the Royal Dutch Shell Company, Petronas, PetroChina, Mitsubishi and Korea Gas, the sprawling terminal facility rising outside the town of Kitimat will have two units to convert the methane into a liquid form for shipping.
When it opens in 2025, it will be able to export 14m tonnes of LNG a year – 3.4% of the 409m-tonne global imports number – a figure that could rise to 28m tonnes if more processing facilities are added.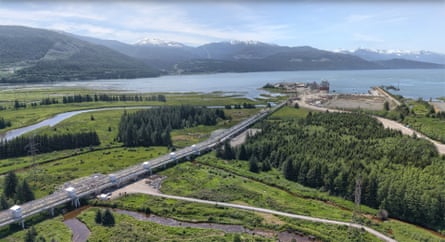 Company executives have said the project, which is also expected to add 4m tonnes of greenhouse gas emissions annually, will have a far smaller carbon footprint than similar projects globally. But critics say operations at LNG Canada will be the equivalent of adding nearly 870,000 cars to the road, and make it more difficult for British Columbia to meet its legislated targets for greenhouse gas reduction.
It is also a threat to recovering whale populations by adding 350 ships to the Douglas Channel each year, or 700 total trips. In a new study, researchers predicted a 30-fold increase in strikes by large ships by 2030, which would result in the deaths of two more fin whales and 18 humpbacks each year than are already being killed.
"We hope the models are wrong, because these numbers are really high," says Hussein Alidina of WWF Canada, who co-authored the paper. "But the team has done a lot of really diligent work in trying to make these models as conservative as possible – and we're still getting these outcomes."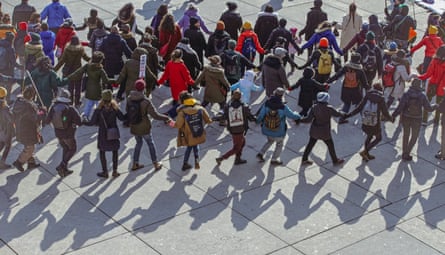 These "unsustainable losses" would deplete whale populations and undo decades of conservation success, as well as dealing a blow to the new Great Bear Sea marine protected zone spearheaded by First Nations. The Gitga'at Nation, whose territory lies along the fjord system, does support the LNG project, but says it had growing concerns over whale safety.
"Gitga'at has been working with the shipping industry and managers on shipping guidelines to foster greater waterway safety in our territory," the nation said in a statement. "We will continue that work to encourage and insist on implementing measures that better protect whales."
Although LNG Canada is required to have a marine mammal management plan, it has not released one, Alidina says. "The public is not privy to the plan and neither are researchers, so we can't scrutinise it."
LNG Canada says it plans to have vessels travel at less than 10 knots within the Kitimat fjord system, a speed experts say will lessen but not eliminate fatalities. But the company also said that operational speeds would be "determined on a per-transit basis" by pilots given weather conditions and port schedules, and that "manoeuvrability will take precedence over slow transit speeds".
Many scientists say a moratorium on vessel traffic in late summer, when the whales are most frequently spotted in the channel, would be the "best measure".
For Janie Wray, the CEO of the research group BC Whales, documenting future strikes is a "heart-wrenching" prospect. "We're dreading it, because we know we're going to be the ones that are going to witness it," she says.
Wray and her group have spent years pleading with ships to immediately report any collisions so her team can dispatch a craft within minutes. They didn't learn about the Northern Expedition strike until nearly 24 hours later – far too long to seek out an ailing whale.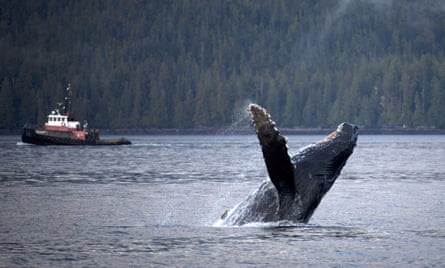 "There's a chance that in the coming years, if things don't change, we might have to reassess the whole humpback and fin whale populations. A huge impact is coming," says Wray.
She added that the recent surge in strikes has happened even without the new LNG terminal adding hundreds of ships to the region. "I worry that reality is going to bite us very hard."
Free TikTok Coins: The Future of Social Media
Consigli per la Sicurezza nel Guadagnare Monete TikTok Gratis
Free Coins on TikTok: Tips and Tricks
How to Earn TikTok Coins: Step-by-Step Tutorial
العملات TikTok المجانية: مستقبل محتوى TikTok
Legit Ways to Get TikTok Coins for Free
How to Earn TikTok Coins: Step-by-Step Tutorial
Die Auswirkungen von TikTok-Münzen auf Ihr Profil
Free TikTok Coins: Where to Find Them
Free TikTok Coins: Insider Secrets
Consigli per la Sicurezza nel Guadagnare Monete TikTok Gratis
Earn Free Coins on TikTok Like a Pro
How to Get TikTok Coins Legally and Quickly
Générateurs de pièces TikTok : Mythe ou réalité ?
Get Free Coins for TikTok: Top Methods
The Art of Earning TikTok Coins
Plongée approfondie dans la génération de pièces sur TikTok
TikTok Coin Hack Myths Debunked
Are TikTok Coin Generators Worth It?
Generadores de Monedas TikTok: Realidad vs. Ficción
TikTok Coin Generators: Fact or Fiction?
Free TikTok Coins Today: Quick Tips
TikTok-Münzgeneratoren: Sind Sie es Wert?
How to Get TikTok Coins Legally and Quickly
TikTok Coin Hacks for Rapid Growth