This essay was published in partnership with Prison Journalism Project, which publishes independent journalism by incarcerated writers and others affected by incarceration.
Almost everybody has visited a fast-food restaurant or roadside gas station at some point in their lives. Can you picture the rotisserie chickens, slowly rotating under the red-hot light?
How do you think it feels inside that oven?
After living in Texas prisons for 23 years, I think I can tell you what it feels like to be that chicken. I can tell you what it feels like to be cooked.
That's because two-thirds of Texas prisons – including the Dr Lane Murray Unit, in Gatesville, where I reside – don't have air conditioning in their living spaces. In fact, there are only two places in my unit that have air conditioning: vestibules and areas where prison staff work. This is despite the fact that multiple regions of the state saw 100F (37.7C) days for more than a month this summer. In fact, this year is on track to be the hottest on record for the world. From behind these bars, I can say it feels like each year just gets hotter.
When it's blazing outside, it's even hotter inside our uncooled prisons. This summer, as temperatures climbed, it seemed like our options for cooling down inside dwindled. According to a July 2022 report from the Texas A&M University Hazard Reduction and Recovery Center, Texas prisons regularly reach 110F (43.3C) inside – in one extreme case, a prison unit topped 149F (65C).
My prison, which is roughly 90 minutes north of Austin, has seen inside temperatures as high as 130F (54.4C). When this happens, cold showers offer little relief. We are also supposed to have access to ice, but faulty ice machines mean inmates sometimes go hours in the summer without cold water. To distract ourselves, we use our state-issued tablets to listen to music or podcasts or watch movies – until the scorching heat causes them to malfunction. Bored and miserable, most inmates wrap wet towels around their bodies in an attempt to keep cool, doing anything to pass the unbearable time.
Extreme heat is deadly. Prolonged exposure can lead to serious health complications. As heat builds up in the body, the heart works harder in an attempt to cool everything down. And it isn't always easy to spot the signs of heat exhaustion or heat illness, such as fatigue, muscle cramping and vomiting, which makes treating it harder.
According to a report from the Texas Tribune, at least nine prisoners have died inside scorching Texas prisons since mid-June. These deaths occurred in regions where the outside temperature had topped 100F (37.7C), and were the result of reported heart attacks or cardiac arrests.
Still, it is unclear whether they were heat-related. The Texas department of criminal justice claims they weren't; but family members, advocates and certain lawmakers aren't buying it. They point to substantial evidence showing a link between increased heat and cardiac arrest.
For years, state leaders have declined to outfit prisons with sufficient air conditioning to cool inmates' living areas. This year, the state house passed legislation to spend $545m over the next two years installing and maintaining air conditioning in prisons. But the state senate declined to provide all of those funds; instead, it opted to allocate $85m toward cooling 11,000 more beds, in addition to the roughly 42,000 beds that already have air conditioning, according to reporting from Texas Public Radio. That plan would still leave close to 100,000 beds without cooling. And that's despite the fact that Texas is estimated to have a budget surplus of over $32bn.
It's a Band-Aid solution. As I was drafting this essay, a cooling system was installed in our dorm. It is not an air conditioner, exactly. But it does cool the sweltering outside air that is blown into the building. During the summer, temperatures outside my prison often exceed 100F (37.7C).
Prison staff told us an independent contractor provided these machines as temporary rentals – and they cooled the dorm down considerably during the warmest months.
In recent years, the state came up with another idea it called "cool respite areas". Department policy says prisoners should be permitted access to air-conditioned areas 24 hours a day, seven days a week, and they should be able to occupy the respite area "as long as necessary".
But according to the Texas A&M report, there are a number of problems with the respite policy. For one, the policy does not apply to all incarcerated people, a limitation that allows for officials to factor in "safety and security" when doling out respite opportunities. In a survey, inmates reported respite denials, respite time being cut short, and the unavailability of respite areas.
In my experience, the Dr Lane Murray Unit violates its respite policy daily. Inmates are frequently denied their right to stay in the respite areas, and anyone who refuses to leave is written up by corrections officers.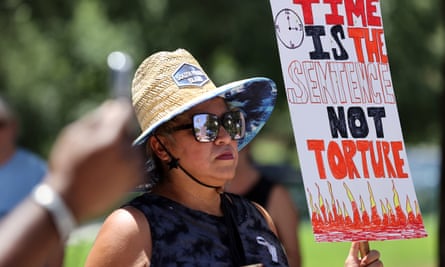 Sometimes I have seen inmates taken to air-conditioned rooms, but only for an hour or so. I know of inmates who have experienced retaliation from staff for filing repeated complaints about respite being refused.
It's sad to watch politics block the help we need and endanger our lives. Texas has prosecuted people before for leaving their dogs in baking cars. But the state won't think twice about housing humans in what feels like an oven.
It isn't tough to relieve the suffering of prisoners – the solutions are simple, and effective. So why don't more Texas politicians have the backbone to stand up for human rights? My guess: They are afraid that giving us air conditioning will harm their chances of winning their next election.
So if I can't appeal to Texas politicians, maybe I can appeal to the average citizen. Would you place a family member in sweltering heat as punishment for something they did? Even if that punishment could lead to illness or possibly death?
The state claims that no heat-related deaths have occurred in its prisons since 2012, but research and analysis tells a different story. Perhaps most damning was a Brown University study from last year that analyzed Texas prison deaths from 2001 to 2019. The report found that, during the warm months, there were 2,083 deaths in prisons without air conditioning compared to 1,381 deaths in prisons with air conditioning.
The researchers estimated that 271 deaths in the prisons without air conditioning – about 13% – might have come from extreme heat exposure.
The heat and its consequences aren't a surprise, and we should stop acting like they are. The solution is simple, if costly. The state estimated that it would cost $1bn to install air conditioning across all of its prisons, and many millions more to maintain it. But the funds were there.
The state had yet another chance to save lives. Instead it opted to save money. That's because what is happening to us isn't considered inhumane. In red-hot Texas, it's considered justice if convicted prisoners roast like chickens.
Khaȧliq Shakur is a writer incarcerated in Texas and a contributor to the Prison Journalism Project. Sign up for PJP's newsletter, or follow them on Instagram or Twitter.

Free TikTok Coins: The Easiest Methods
Get Free TikTok Coins: The Ultimate Guide
Consejos de Seguridad para Ganar Monedas TikTok Gratis
Enhance Your LivU Video Chat with Free Coins
How to Earn Free Spins in Coin Master: Step-by-Step Tutorial
Avakin Life Avacoins Generator Scams: What to Avoid
Bingo Blitz Credits Generators: What Really Works?
The Secret Formula for Spins Generation in Coin Master
genshin impact free primogems code updated gamerpower
The Future of ZEPETO Zems: Trends and Predictions
match masters free boosters match masters daily gifts
How to Get TikTok Coins Legally and Quickly
Boost Your Brawl Stars Experience with Free Gems
TikTok Coin Hack: A Comprehensive Overview
Massimizza le Tue Guadagni in Monete TikTok con Questi Suggerimenti
Elevate Your Chat Experience: Free Coins in LivU Video Chat
Effortlessly Get Free Spins in Coin Master
Avakin Life Avacoins Hack: Elevate Your Gaming Experience
Bingo Blitz Credits Hack Safety: Best Practices
Coin Master Spin Generator Review: Best Practices
TikTok Coin Farming: What You Need to Know
Obtenez des pièces TikTok gratuitement en quelques étapes simples
The Secret Sauce to TikTok Coin Generation
Unlocking TikTok Coins: Proven Strategies
Trucos de Monedas TikTok: ¿Realmente Funcionan?