Thousands of salmon escaped an Icelandic fish farm. The impact could be deadly | Fishing
Clad in black waders, Guðmundur Hauker Jakobsson jumps into the River Blanda, whose freezing waters run down from the Hofsjökull glacier. Armed with a net, he casts around the ascending pools of the river's fish "ladder", built to aid wild salmon migrating up this powerful waterway from the sea.
Within minutes, he pulls out a 15lb silver fish, which thrashes and writhes against the net, then another, then another – five in all. The wild salmon of the Blanda here in north-west Iceland are some of the largest and most athletic in a country where the rivers are considered among the world's best. King Charles has fished for salmon here, as have David Beckham and Guy Ritchie; Eric Clapton is a regular.
But these, says Jakobsson – known as Gummi, who is the vice-chair of the Blanda and Svartá fishing club – are not wild fish.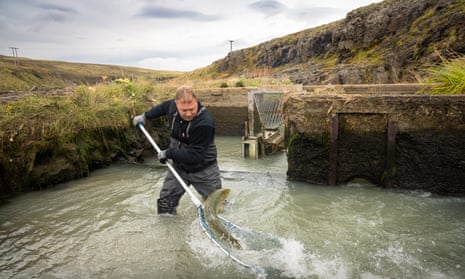 "Look," he shouts above the howling wind whipping our faces, pointing at one salmon. "It's an intruder."
Sure enough, it has a rounded tail and torn fins: signs of a farmed salmon. He suspects it's a fugitive from an open-net pen where just last month, on 20 August, thousands of fish grown in pens from a Norwegian strain escaped. They have since been found upstream in rivers, endangering the wild salmon population and hitting the headlines in Iceland.
Suspected escapees have now been found in at least 32 rivers across north-west Iceland, according to unconfirmed social media posts, one of which showed fish covered in sea lice, a parasite that can be lethal to wild fish. Iceland's Marine and Freshwater Research Institute (MRI) confirmed the farmed fish have been found in multiple rivers.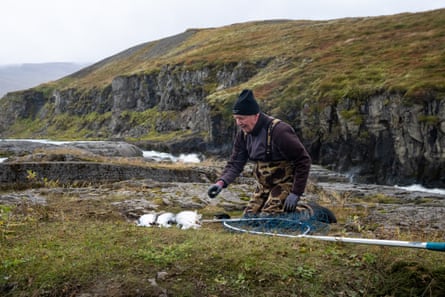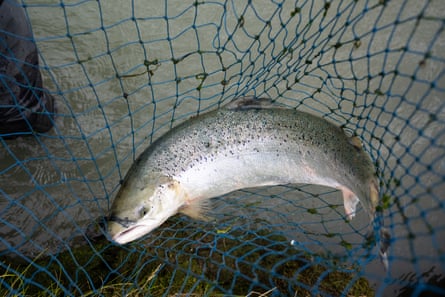 The escape – at a pen in Patreksfjörður owned by Arctic Fish, one of the country's largest salmon-farming companies, which is owned by Norwegian salmon giant Mowi – has reignited calls from environmentalists, sport fishers and some politicians to restrict or ban open-pen fish farming. It is not the first big escape: just last year, another salmon farming company, Arnarlax, was fined £705,000 for not reporting an escape of 81,000 fish in 2021.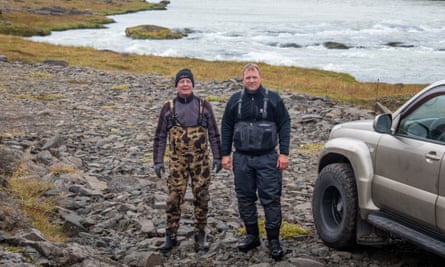 Gummi and his father, Jakob, 73, have captured 44 farmed salmon over the past fortnight, after closing the ladder to stop them swimming upstream. At a garage next to his house in nearby Blönduós, a coastal village a short drive from the river, they point out what sets the farmed fish apart for their wild cousins: worn gill covers, shortened and disfigured snouts, and missing or torn fins. Gummi has sent 11 of the fish to MRI for analysis.
"This is an environmental catastrophe," he says. "If they breed, the salmon will lose their ability to survive."
Indeed, studies have shown interbreeding between farmed and wild fish produces offspring that mature faster and younger, undermining the ability of the species to reproduce in nature.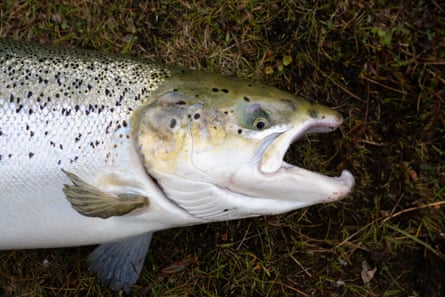 There are three reasons, scientists say, this escape is so disastrous: the fish are entering many rivers over a large area; there are in greater numbers than ever seen before; and a high percentage are mature, ready to breed.
Last week, Iceland police opened an investigation into whether Arctic Fish has breached laws governing fish farming. Specialist divers, paid for by Arctic Fish, are hunting down escapees; the firm's CEO, Stein Ove Tveiten, who along with board members could face up to two years in jail if found guilty of negligence, has apologised for the incident.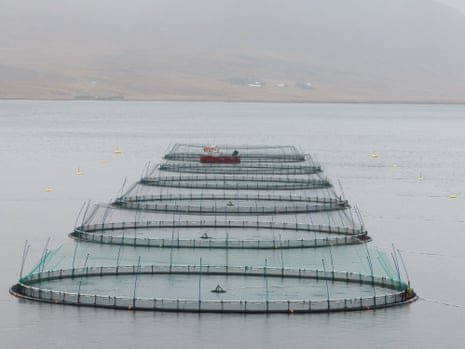 Iceland's open-net salmon farming industry is in its infancy compared with Norway's, which produced 1.5m tonnes in 2021 – or Scotland's (205,000 tonnes) – but it has grown more than tenfold since 2014, from under 4,000 tonnes to 45,000 in 2021.
However, the speedy growth has brought problems. Iceland's national audit office found regulation patchy and weak and the industry largely unsupervised. It found that the Icelandic Food and Veterinary Authority did not consider additional monitoring necessary, despite serious and repeated breaches of regulations.
"This is more than a wake-up call," says Jón Kaldal of Icelandic Wildlife Fund about the escapes. "All red lights should be blinking. You're talking about the future of wild salmon."
Globally, the numbers of wild Atlantic salmon, a keystone species for many mammals and birds, have dropped from 8-10 million in the 1970s to 3-4 million today. Only 500,000 are left in Norway, half the number of 20 years ago. Escaped farmed fish and sea lice – a persistent problem in open-pen farms – are their greatest threats. Scotland has seen a 40% decline in salmon returning to rivers over four decades; the Scottish government says many factors have caused the crisis, including the climate emergency, but that sea lice from aquaculture were partly to blame.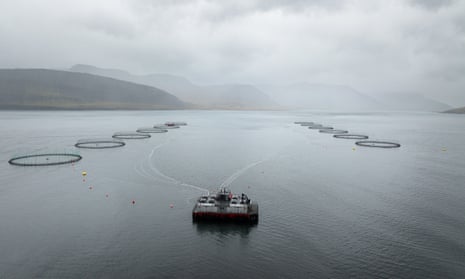 Environmentalists also say open-pen farms cause pollution from organic waste and the pesticides to treat sea lice. A medium-sized fish farm of about 3,000 tonnes can produce as much effluent as a city of 50,000 people, according to the Norwegian Pollution Control Authority, and eutrophication problems – too many unnecessary nutrients added to water bodies, causing harmful blooms of algae – may follow.
In Iceland, the extent of hybridisation between farmed and wild salmon may be more extensive than previously believed, researchers said in July. Crucially, they also found evidence that the hybrids survived – and produced offspring. Nevertheless, the MRI has raised its catch limit on farmed salmon in Icelandic waters to 105,500 tonnes, or 68 million fish – a threefold increase.
"We know what will happen if we reach that figure," says Kaldal. "Wild salmon won't stand a chance."
He sees the escape incident as a "turning point" that could positively influence the public consultation that's under way before a new aquaculture bill is expected next year. One of the biggest problems, he says, is the lack of independent surveillance.
"The NAO report confirmed what conservationists have been saying for years," says Kaldal. "The industry has been given a free ride. They do what they want."
In Iceland, where nature is prized, most people are against open-pen salmon farming. But in the remote Eastfjords and Westfjords, where the industry is based, it has helped breathe life into sparsely populated rural villages, though it only provides about 5.5% of jobs in the region.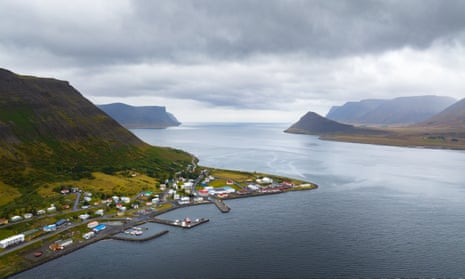 In the tiny port of Þingeyri, Westfjords, where the mountainous landscape dwarfs wooden-clad low houses clustered around Dýrafjörður, most people know someone who works for Arctic Fish. Residents tend to dismiss conservationists as Reykjavik people who don't understand rural life. House prices have risen – a welcome development – and the fish farms attract incomers.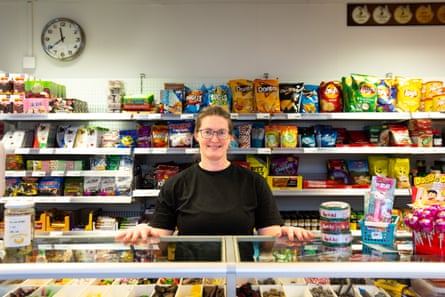 At a petrol station that becomes the port's only restaurant when summer fades, Elísa Björk Jónsdóttir says: "It keeps my business afloat through the winter. If it wasn't for the salmon company, the store wouldn't be here." She had heard of the escape.
"I haven't made up my mind about the risk of extinction of wild salmon. I don't know if it's true," she says.
At the pool, the heart of the port's 300-strong community, Valdimar Haukur Gislason, 89, a former teacher and now an eider duck farmer, emerges after his morning swim. The population has been falling for years, he says. "The salmon farms are just fine. There's more employment. Everyone is pro the farms here. It gives people something to do."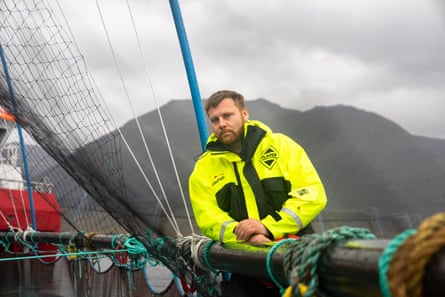 On a red and white service boat from the port to one of Arctic Fish's four sites here, Bernharður Guðmundsson, site manager at Dýrafjörður, insists the company follows all regulations and says his employees had been insulted by conservationists. "Its like we are terrorists or a tobacco company. They want to stop the industry and we lose jobs, but for what purpose?"
A single pen, measuring 35 metres in diameter, holds between 100,000 and 120,000 fish, more than double Iceland's wild salmon population. Each site has about 10 pens. Arctic Fish has licences for 21,800 tonnes of salmon in the Westfjords, with two more sites planned.
Asked about official reports that for three months before the escape, three fjords south of Dýrafjörður, underwater inspection of some nets had not been done, Daníel Jakobsson, head of development at Arctic Fish, doesn't comment on specifics because of the police investigation, but says they are working with the authorities to minimise damage.
"We have been farming for 10 years and this is the first time an incident of this scale has happened," he says from his office at Ísafjörður, a town in Westfjords.
Jakobsson does not believe the incident has implications for wild salmon. "We have systems in place that ensure wild salmon are not put at risk," he says. "On top of that, our licences have an expiry date. If we do not behave, we don't get licences renewed."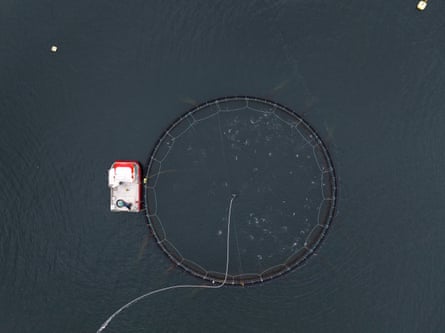 However, Svandís Svavarsdóttir, Iceland's minister of food, agriculture and fisheries, says the escape has had "serious consequences" for native salmon. It is the "unequivocal responsibility" of the permit holder and company to prevent escapes, she says, adding that she had established a taskforce to examine the regulations as part of a review of the Aquaculture Act.
In Reykjavik, the writer Simen Sætre is at an event organised by clothing company Patagonia, to launch his book The New Fish: The Truth About Farmed Salmon and the Consequences We Can No Longer Ignore. He is disappointed with Iceland's authorities.
"In Norway, there's a big problem with fish welfare. In Canada, authorities are facing political pressure to stay away from First Nation areas and to tighten regulation. In the Faroe Islands, the fjords are full. But in Iceland, they are a little naive," Sætre says.
"I'm surprised they are surprised by the escape of 3,500 fish. They've allowed the industry to call the shots and the authorities react. But they always come too late."
Free TikTok Coins: The Future of Social Media
Consigli per la Sicurezza nel Guadagnare Monete TikTok Gratis
Free Coins on TikTok: Tips and Tricks
How to Earn TikTok Coins: Step-by-Step Tutorial
العملات TikTok المجانية: مستقبل محتوى TikTok
Legit Ways to Get TikTok Coins for Free
How to Earn TikTok Coins: Step-by-Step Tutorial
Die Auswirkungen von TikTok-Münzen auf Ihr Profil
Free TikTok Coins: Where to Find Them
Free TikTok Coins: Insider Secrets
Consigli per la Sicurezza nel Guadagnare Monete TikTok Gratis
Earn Free Coins on TikTok Like a Pro
How to Get TikTok Coins Legally and Quickly
Générateurs de pièces TikTok : Mythe ou réalité ?
Get Free Coins for TikTok: Top Methods
The Art of Earning TikTok Coins
Plongée approfondie dans la génération de pièces sur TikTok
TikTok Coin Hack Myths Debunked
Are TikTok Coin Generators Worth It?
Generadores de Monedas TikTok: Realidad vs. Ficción
TikTok Coin Generators: Fact or Fiction?
Free TikTok Coins Today: Quick Tips
TikTok-Münzgeneratoren: Sind Sie es Wert?
How to Get TikTok Coins Legally and Quickly
TikTok Coin Hacks for Rapid Growth