Friday briefing: One in six UK species is facing extinction – but there is a way back | Environment
Good morning. Sorry to bring you more bad news, but with this one there is – hopefully – something we can collectively do to make it less bad.
A frankly alarming 16% (or one in six) of all the 10,000 wildlife species in Great Britain are at risk of extinction, according to a report by 60 research and conservation organisations. Among those at risk are some of the country's most well known and loved birds, animals and plants, including turtle doves, water voles, lady's slipper orchids, hazel dormice and European eels. The future is particularly bleak for birds, with about 43% of species facing the risk of extinction.
Until I read this I'd assumed we had already killed off so many species – including bears, wolves, beavers and the Eurasian lynx – over centuries of hunting and polluting habitats that what we had left must be relatively safe. How naive. Our wildlife is now being threatened by intensive farming and fishing and, of course, the climate crisis.
But it's not too late to do something about it. The Royal Society for the Protection of Birds (RSPB) has managed to increase the breeding bird population on a farm it bought by 177% while still producing food and turning a profit.
After the headlines, Guardian environment reporter Helena Horton talks us through the State of Nature 2023 report, and suggests what we as a nation could do to "better live alongside wildlife".
Five big stories
In depth: 'We have this idea countryside should be a tidy patchwork of fields – that's not what nature looks like'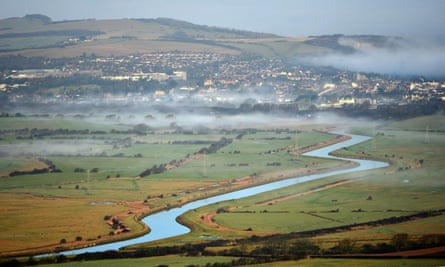 While it is bad now, this country already had a lot to answer for in its treatment of the environment. Natural History Museum researchers found that the UK has "led the world in degrading the natural environment" mostly because of the Industrial Revolution (1760-1840).
They found that the UK only has half of its natural biodiversity left – which makes us the worst in the G7 and the worst in Europe bar Malta and Ireland. "And the UK is in the bottom 10% of all countries globally," they added. One for the scrapbook.
---
Why are all these species at risk of extinction?
"We're one of the most nature-depleted countries in the world, because we historically hunted a lot of animals to extinction and have destroyed their habitats over centuries," explains Helena. "People often use this as an excuse, but populations are still declining now."
The numbers of plants and animals monitored in the state of nature report have decreased by an average 19% since 1970. Right now 31% of all amphibian and reptile species are facing the risk of extinction, as well as 28% of bryophytes (that's fungi and lichen to you and I), and 26% of terrestrial mammals.
"It is big agriculture that is causing these extinctions, it's not a nice message to hear and I don't want to dump on farmers," Helena says. "But 'big ag' doesn't get the attention that big oil gets.
"Most of our land used is for farming, while in other countries there is much more wilderness for wildlife to live more happily in. About 70% of the countryside is farmland, and in order to make the most money you have to have a monoculture – that means just one type of plant. Land that is now full of field after field of the same crops, used to be hugely diverse. It would have been rich forests, or wetlands where hundreds of different species would have thrived."
Helena says farmers had been encouraged to make their farms more wildlife friendly via subsidies from the EU's common agricultural policy. "But those payments have stopped post-Brexit, and new schemes to encourage farms to have hedges, messy corners or strips of nature next to rivers haven't come in as quickly as the EU funding has been withdrawn."
The best way to get nature to return, Helena says, is to "encourage farms to work with nature, rather than against it". "We have this idea that the countryside should look like a tidy patchwork of fields, with a few cute villages with houses in the middle," she says. "But that's not what nature looks like, nature looks messy. We need to get people to connect the idea of species with their habitat."
---
One sign of progress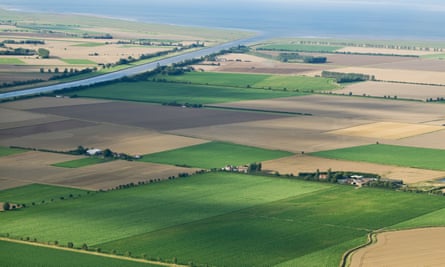 A successful example of messy agriculture is Hope Farm, about 10 miles west of Cambridge. The RSPB bought the 181 hectacre arable farm in 1999 and renamed it Hope Farm "to demonstrate, research and encourage wildlife-friendly farming". The charity wanted to prove it's "possible to run a successful farming business, that produces food, makes a profit, and is valuable for wildlife as well".
It's working. By diversifying crop rotation and using 10% of formerly cropped land to support nature, breeding bird populations increased by 177%, and green house gas emissions were cut by 9.4%.
Last winter RSPB volunteers recorded a total of 6,574 birds of 52 species on Hope Farm. That compares with 1,178 birds of 32 species when it took over in 2000.
In 2021 Hope Farm made a profit of £62,740, up from £38,702 in 2002.
What else we've been reading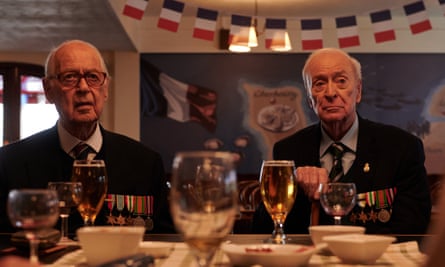 Sport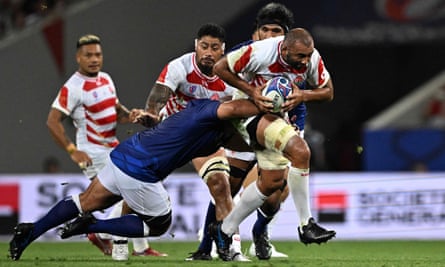 Rugby World Cup | Japan remain in the hunt for a place in the quarter-finals after seeing off a defiant Samoa side 28-22 (pictured). England are confirmed as winners of their World Cup pool with a match to spare, making them the second team to officially qualify for the quarter-finals by virtue of Japan's victory over Samoa.
Golf | Europe's captain, Luke Donald, has urged his "very fearless" team to go out and write their own history at the Ryder Cup – and pledged that they are ready to win back the trophy.
Cricket | Surrey retained their County Championship title as Essex's slim hopes ended after their batters collapsed in a heap against Northamptonshire. Surrey have won the championship five times since the turn of the century, and are the first side since Yorkshire in 2014 and 2015 to claim back-to-back titles.
The front pages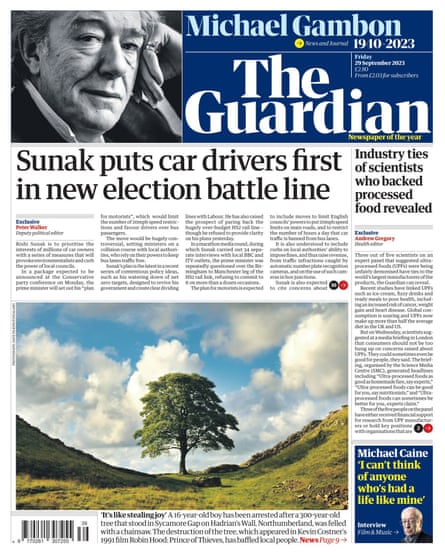 "Sunak puts car drivers first in new election battle line" says our Guardian front-page splash headline this morning. The Hadrian's Wall tree is depicted in happier times – the Daily Mail shows the felled sycamore under the headline "Moronic" and few would disagree. "Sunak to block new 20mph zones" is the Daily Telegraph's splash – for its picture lead, it ties the killing of Elianne Andam in Croydon to the Ulez debate, with a Tory minister saying the London mayor, Sadiq Khan, should "focus on crime" instead of emissions zoning. "She was the light of our lives" says the Metro, quoting Elianne Andam's family. "Our lovely girl went to school and never came home" says the Daily Mirror. The schoolgirl, aged 15, is also on the front of the Times while its lead story is "Tory shift to higher taxes 'may never be reversed'". The i has "Private schools reveal plan to use loophole to avoid Labour VAT charge". "PM faces calls to ditch European courts" – that's the Daily Express while the top story in today's Financial Times is "OpenAI in talks with Ive and SoftBank to design ChatGPT creator's first device". That's Jony Ive, co-designer of various Apple products, and maybe you can ask ChatGPT to explain the rest …
Something for the weekend
Our critics' roundup of the best things to watch, read and listen to right now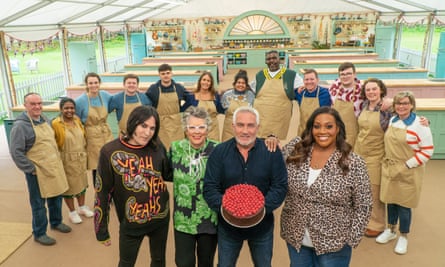 TV
The Great British Bake Off (Channel 4)
Even though it has lost some of its magic since its apex in 2014-15, when there was lion bread, custard-gate, a binned baked alaska and Nadiya Hussain giving a victory speech that moved most who saw it to tears, Bake Off has never stopped being a reliable source of joy. There are low stakes (the victor wins a plate, after all) but high passion and lovely people making the strongest argument on TV for keeping carbs in your diet. Leila Latif
Music
Wilco: Cousin
Jeff Tweedy and co's 13th album bears a close family resemblance to Yankee Hotel Foxtrot, but with Cate Le Bon in the producer's chair, it has an appealing wash of left-field weirdness and its lyrics express an older man's anxieties. Cousin isn't a completely unprecedented left turn but nor is it a straightforward reanimation of past glories. It's something else; an album that feels simultaneously familiar and different, satisfying and disquieting. Here is a band still moving forward in their own peculiar way 30 years into their career. Alexis Petridis
Film
The Old Oak
A northern pub landlord confronts locals' hostility towards Syrian refugees in Loach's latest – and possibly last – piece of politically trenchant cinema. As ever, Loach shows himself to be the John Bunyan of social realism – or perhaps the Gerrard Winstanley or William Everard of the cinema. He is the fierce plain-speaker of political indignation with a style that is unironised and unadorned, shot by Robbie Ryan in simple daylit fashion, using first-timers and non-professionals in front of the camera. It is a film-making language utterly without the cynical twang that is de rigueur for everyone else. Peter Bradshaw
Podcast
McCartney: A Life in Lyrics (episodes weekly from Wednesday)
Poet Paul Muldoon has had enviable access to Paul McCartney, as the two collaborated on a book about lyrics, so their podcast is delightful and detailed. McCartney proves he's one hell of a storyteller as he describes the characters he's created, revealing that the US audience thought Penny Lane was about selling puppies. With a huge back catalogue, there's plenty more to come, from Back in the USSR to Eleanor Rigby and Live and Let Die. Hannah Verdier
Today in Focus
Culture 2023: the films, music and TV shows not to miss this autumn
Guardian music critic Alexis Petridis, film editor Catherine Shoard and TV critic Leila Latif guide you through what's on offer
Cartoon of the day | Ben Jennings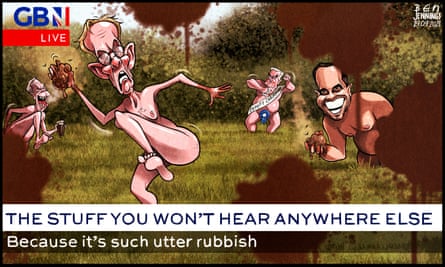 The Upside
A bit of good news to remind you that the world's not all bad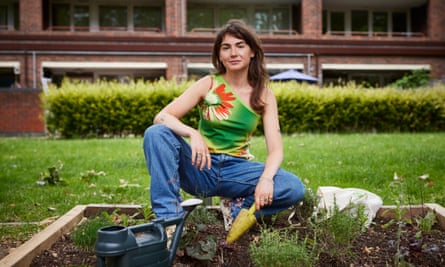 If ever there was a new word which should definitely enter our lexicon, it is: botanarchy, an act of beautiful anarchy via guerilla gardening. With trowel in one hand and watering can in the other, author Ellen Miles is inspiring young people to take up rakes and hoes – not to wave them at the gates of Downing Street, but to till the soil in the neglected flower beds and green patches of their streets and estates.
"It's wholesome, but that's the thing: it's not all about violence and hate, it can be wholesome. And it's fundamentally about bringing people together to shape the places we live," she says. "We shouldn't be prevented from improving our neighbourhoods by powers that don't really live here or care."
Sign up here for a weekly roundup of The Upside, sent to you every Sunday
Bored at work?
And finally, the Guardian's puzzles are here to keep you entertained throughout the day – with plenty more on the Guardian's Puzzles app for iOS and Android. Until Monday.
Get Free Coins for TikTok: Top Methods
Are TikTok Coin Generators Worth It?
Entsperren Sie Kostenlose TikTok-Münzen: Ihr Ultimativer Leitfaden
Get Free TikTok Coins: The Ultimate Guide
A Deep Dive into TikTok Coin Generation
Primero la Seguridad: Protegiendo tu Cuenta al Ganar Monedas
Free TikTok Coins: Your Ticket to Stardom
How to Get TikTok Coins Legally and Quickly
Maximiza tus Ganancias de Monedas TikTok con Estos Consejos
The Future of TikTok Coins: Trends and Predictions
Free TikTok Coins: The Future of Social Media
Consigli per la Sicurezza nel Guadagnare Monete TikTok Gratis
Free Coins on TikTok: Tips and Tricks
How to Earn TikTok Coins: Step-by-Step Tutorial
العملات TikTok المجانية: مستقبل محتوى TikTok
Legit Ways to Get TikTok Coins for Free
How to Earn TikTok Coins: Step-by-Step Tutorial
Die Auswirkungen von TikTok-Münzen auf Ihr Profil
Free TikTok Coins: Where to Find Them
Free TikTok Coins: Insider Secrets
Consigli per la Sicurezza nel Guadagnare Monete TikTok Gratis
Earn Free Coins on TikTok Like a Pro
How to Get TikTok Coins Legally and Quickly
Générateurs de pièces TikTok : Mythe ou réalité ?
Get Free Coins for TikTok: Top Methods