'They're sentient beings': a new way of raising fish – and vegetables – in New York | Farming
Nestled between a Trader Joe's and New York City's East River is Oko Farms, a little hub of greenery in Brooklyn that looks out on to Manhattan's skyline. Fenced off in the corner of an expansive construction site, it's not easy to locate.
Past the gates is a 10,000 sq ft plot brimming with beds of lemongrass, cabbage, okra, peas, peppers, tomatoes, leeks, onions and carrots. They are sprawling patches of greenery, accessed by a narrow wooden walkway that interlaces throughout the property. But unlike most urban gardens, the plant beds have plastic tubes stuck to them. The tubes are connected to large baths of tilapia, carp, catfish and perch, and circulate water between the two.
Oko Farms is New York City's first outdoor aquaponics farm, combining aquaculture (growing fish) and hydroponics (growing plants without soil) into one recirculating ecosystem. It's an ancient technique once practiced by the Incas, as well as in Mexico, Peru, Japan and Egypt, that's now seeing a resurgence in the US, particularly in urban areas since it doesn't require soil and can increase crop production thanks to faster plant growth and year-round production, if done indoors.
Aquaponics is also thought to be more climate-friendly since it uses less energy and is more weather-resilient than traditional types of farming. Because most of the farm is outdoors, the farm relies largely on rainwater to replenish the system when needed, only using tap water during times of drought, or excessive heat in the summer.
Through her farm, as well as a host of educational and community programs, Yemi Amu, the founder of Oko Farms, wants to teach local residents how simple and beneficial aquaponic farming can be.
"You can put aquaponics in your apartment, basement or rooftop," said Amu. All it requires are a few simple components – a fish tank, a tube and a tray with plants – that can then be scaled to any size, and there are even tabletop kits available for those with minimal space. "To be able to raise animal protein in a way that is traceable and sustainable, for those of us who live in an urban environment, it closes that gap beautifully."
Amu calls her career in farming an "accident". Born and raised in Lagos, Nigeria, Amu came to New York 27 years ago to study nutrition at Columbia University. She later worked at a housing facility for people who previously experienced homelessness and mental illness. It was there that she discovered her passion for farming, after finding a small rooftop garden at the clinic.
"It helped me realize that even though I was teaching them about making healthy choices, I wasn't addressing access," said Amu, 42. So she pivoted to farming.
Amu spent years continuing her education while running a farmers' market and gardens at lower-income schools around Brooklyn. It wasn't until she heard about aquaponics from a colleague that she was inspired to start an urban farm of her own.
The first iteration of Oko Farms started in 2013, on a modest 2,500 sq ft plot in Crown Heights, Brooklyn. She moved to the new location, called River Street Farm Collective in Williamsburg last year. In addition to aquaponics, the site is shared with other small businesses, such as Compost Power and Island Bee Project.
The method for aquaponics itself is relatively simple. When the fish need new water in their tanks, that water flows in tubes to the plants, which extract the nutrients in the water's bacteria and fish waste. The repurified water is then returned to the fish.
Most crops can be grown with aquaponics, but it's most effective when used with plants and fish that have similar temperature and pH requirements. Lettuce, greens and herbs for instance, are optimal choices whereas blueberries, which have a lower pH balance, can be harmful to the fish.
Another benefit of aquaponics is that the fish are traceable, which is important amid the questionable ethics of fish farming today. The produce can also be free from pesticides, and the fish can be free from hormones and antibiotics.
But aquaponics doesn't come without challenges. Because of the intricate system it entails, set-up can be significantly more expensive than traditional types of farming.
For Amu, what "hit home" the most was the water conservation in aquaponics. Because the water is recycled instead of discarded, aquaponics can use about a ninth of the water used in traditional agriculture. "Coming from a third world country where not everyone has access to clean water, that was a big deal for me," she said.
In addition to growing crops and fish, the farm offers robust programming, including reiki classes, medicinal workshops, school field trips, herbal distillation classes, a farmers' market and weaving courses from the cotton grown on site.
"We don't want this to be only for the wealthy Williamsburg demographic, that's something I struggled with for a bit," said Amu. The solution? "[Being] intentional with our offerings so that people are willing to come from the outside." This includes community engagement, workshops and culinary classes.
In addition to selling the farm's vegetables and fish at a weekend farmers' market, Oko Farms also sells to a few African and south-east Asian chefs looking for specific herbs and vegetables. When one customer from Liberia who grew up eating sweet potato leaves couldn't find them anywhere in the city, Amu started growing them.
What produce isn't sold is donated every week to an organization called One Love Community, which sets up and maintains community fridges around Brooklyn.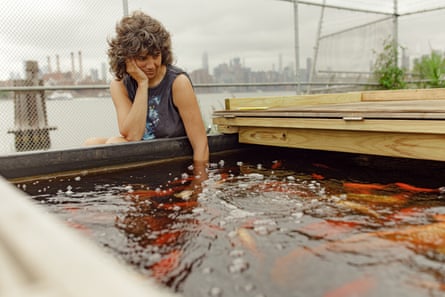 "Last year, we donated 450lb of vegetables and fish to the community," said Amu , though this year they are expected to increase those numbers.
Recently, Amu has been working with Becca Franks, an assistant professor in New York University's environmental studies department, who has been researching fish behavior at Oko Farms since 2018. The two are working on a course called "Fish Talks", where they can discuss aquaponics and the future of aqua-farming.
Risha Lee, an amateur gardener who started taking a class this April, said Oko Farms' work shows a "deep respect for the animals, a natural extension of the self-care of humans and marginalized communities".
Franks said that given the increasing popularity of aquaponics, it's critical to educate people right now on the intricacies of farming practices, especially as aquaponics continues to enter the mass industrial scale. "With aquaculture, we're in this really important moment in history," she said.
Amu added that as aquaponics takes off, it's important not to exploit production. "We would rather have fish available every other year than replicate inhumane practices," said Amu. "They are sentient beings, and I want people to understand that."

TikTok Coin Hacks: Boost Your Account for Free
Generatori di Monete TikTok: Mito vs. Realtà
TikTok Coin Generators: What to Watch Out For
TikTok Coin Generator Review: What Works Best?
Consejos de Seguridad para Ganar Monedas TikTok Gratis
A Deep Dive into TikTok Coin Generation
Free TikTok Coins: The Easiest Methods
Aprovechando al Máximo los Regalos de Monedas TikTok
Free TikTok Coins: The Future of Social Media
TikTok Coin Generators: Fact vs. Fiction
Crescere il Tuo Seguito TikTok con Monete Gratis
Free TikTok Coins: The Holy Grail of Success
Free TikTok Coins: Your Ticket to Stardom
Recommandations d'experts : Le hack des pièces TikTok
Free Coins on TikTok: Tips and Tricks
How to Get TikTok Coins Effortlessly
Plongée approfondie dans la génération de pièces sur TikTok
The Secret Sauce to TikTok Coin Generation
TikTok Coin Farming Demystified
مولدي العملات TikTok: الأمان والمخاطر
Mastering TikTok Coins: Expert Insights
TikTok Coin Farming: What You Need to Know
Risques liés aux générateurs de pièces TikTok : La vérité
Maximize Your TikTok Earnings with Free Coins
TikTok Coin Generators: Fact or Fiction?