Property over people? New York City's $52bn plan to save itself from the sea | Environment
The retired FDNY firefighter Patrick Kilgallen remembers the night well. In late October 2012, the approach of Hurricane Sandy up the US Eastern Seaboard coincided with a spring tide, propelling a surge of storm water that crashed into New York City and its surrounds, causing more than $70bn (£56bn) in damages, mostly from flooding.
When water from the ocean and bayside came coursing up the street, Kilgallen was with his family at home, one block in from the wooden boardwalk, at Rockaway Beach – a barrier island off Queens that faces the Atlantic Ocean and has become known as the "Irish Riviera" for its large population of Irish-American families, including many New York City firefighters and police officers.
"We tried to barricade the windows with sandbags but it kept coming up," he says. "The basement door blew out with the pressure of the water. So, I shut the power off, and went up the first, or, ground floor. Then, as the water came up, we went to the second."
The water turned out to be just the beginning of the carnage that ensued after neighbouring homes caught fire. A whole section of Breezy Point, including 200 homes, was flooded and then burned down.
Since that day, a billion-dollar, federally funded programme has been enacted to fortify nine miles of the Rockaway peninsula's Atlantic-facing beach. The boardwalk was rebuilt in concrete and now doubles as flood protection; quarry stone groins were put in to break the waves; and – allowing for nesting of small, plump piping plover, a federally protected species – sand dunes were dug out and underpinned with a stone-filled trench and concrete wall going down 16ft.
All this may not be enough: the barrier island of Rockaway Beach is just three blocks wide but nine miles long, and the side facing in toward the bay has not been so lavished with attention. Should Sandy's convergence of atmospheric and lunar forces ever be repeated – as Hurricane Lee was threatening to do last week before veering off – a storm surge could come from the other direction, hitting the public housing, popular summer beaches of Fort Tilden and Jacob Riis, and the Irish-American co-operative of homes and cottages at Breezy Point on the western tip.
At each spot, earth-moving and climate reinforcements are taking place – all part of vast efforts to protect New York's five boroughs against the rising ocean, with a single goal: to ensure another Sandy never happens. On Staten Island, the homes of hundreds of property owners have been brought out, and some homes are being elevated on stilts. New York's subway system is still being repaired and upgraded.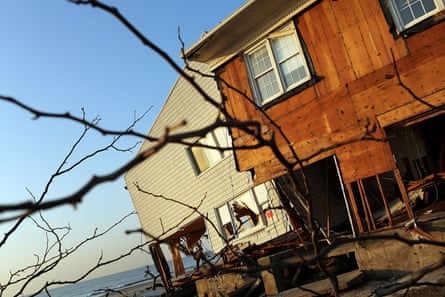 Meanwhile, a city programme to build a barrier wall along the east side of Manhattan led to a dispute over storm protection designs for the historic East River Park, pitting community activists against political representatives whose areas encompassed public housing.
There is a growing backlash against "climate gentrification" – an effect caused when uninsured or under-insured homeowners lose their properties to a climate disaster, and the sites are sold and rebuilt for new, wealthier homeowners.
Indeed, Sandy grew so large in the 48 hours before landfall – with tropical storm-force winds spreading across 870 miles – that it was re-designated to a "superstorm". But that change permitted some insurers to only pay out for wind damage, not flooding, contributing to financial losses from storm damage that could not be recovered and forced less wealthy homeowners to sell up.
At Rockaway Beach, the effects are impossible to miss. A luxury hotel has opened in a traditionally working class neighbourhood, and a section of Belle Harbor now has the highest median home price – $2.5m – in the entire borough of Queens. But Rockaway beachgoers are not sure they want the area to be Manhattan's "favourite urban wellness escape", as Forbes put it.
"The neighbourhood has changed – it's richer," said a surfer, who was relaxing after tackling the strong waves of surf stirred up by Hurricane Lee hundreds of miles offshore, and preferred not to be identified. "Every time a storm comes, richer people come and build bigger homes."
But these may only be preliminary battles. A recent proposal by the US army corps of engineers allocated a staggering $52bn to protect the region from future storms. The proposal would see a system of sea barriers and gates across the mouths of major bays and inlets along New York Harbor. It would also create a sea wall ringing Manhattan – a wall that would essentially barricade the island against a harbour that has long defined its identity.
But critics, including New York's Environmental Defense Fund, say the cost analysis systems used by state and federal governments are skewed toward protecting property, not maximising protection for the largest number of people, rich or poor. One derided billion-dollar plan to protect part of lower Manhattan would provide direct flood protection to just 62 condominium and rental buildings, 21 commercial properties and 19 public buildings.
More than 25 organisations are demanding an overhaul of the federal plan, arguing that it fails to protect environmental justice communities and is "myopic", focusing primarily on just one type of flooding: coastal storm surge.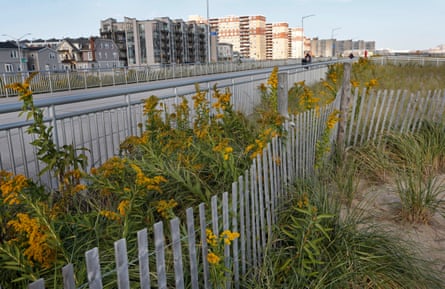 "The government's plan is a blunt instrument for a very complex situation," says Savitri Durkee, an activist with the Church of Stop Shopping, an environmental justice-aligned performance group. Durkee argues that climate change is happening so rapidly that a single engineering solution, one that could take decades to complete, is not the answer because it fails to address the causes and considers only coastal storms, not interior flooding.
"We need an adaptive model that's re-examines the climate situation as it accelerates," she says.
New York's topography, which includes lengthy river and ocean coastlines, and its dense urban development, as well as the constrained capacity of the city's sewer system (which floods sewage into the harbour in heavy rains), are hard issues to overcome with a single solution.
According to Durkee, the issue comes down to what problem we want to fix and what the priorities are. She notes that historically New York was wetlands. The way the wetlands formed provides a map to how human development could re-adapt to changing climate circumstances, she says.
She says the goal of all this time and money is not clear. "Is it simply the protection of real estate and who are the stakeholders here?"
The East River wall, for instance, could simply deflect a storm surge back towards Newtown Creek, one of thousands of contaminated "superfund" sites nationally that fall under the management of the Environmental Protection Agency. The Brooklyn waterfront creek is ringed by disadvantaged communities that, activists fear, could be flooded with toxic chemicals stirred up by currents.
"Hurricane Sandy will never happen again – it will be something more complex," Durkee says.
"There is a failure of imagination using 19th-century models for a 21st-century problem. The solutions lie in real community resilience, a bottom-up approach to resiliency, and whatever that is, it has to happen within communities, on the ground, and allowing the community to participate in the planning."
On the Rockaway peninsula, many are concerned that the army corps system would simply push the water their way.
"The climate has changed and is changing faster than we know how to build big engineering projects," New York City's chief climate officer Rit Aggarwala acknowledged to the New York Times last month.
In an emailed statement last week, a city spokesperson said the army corps was "proposing solutions to reduce coastal storm risk and is complementary to the multi-layered work the city is leading in coastal resiliency".
The EDF says there is one in four chance that Sandy's 1/100 year event will recur once every 30 years. A 2014 army corps of engineers water resources science, engineering and coastal planning report acknowledged that the 1/100 probability model was not based on solid evidence, but for management purposes.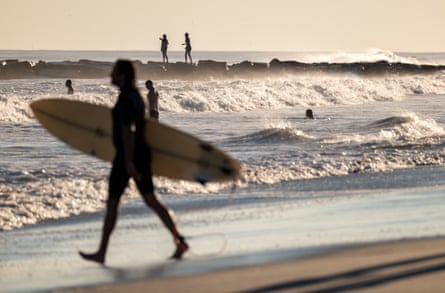 There was "no evidence that reducing risk to a 1% annual-chance event is in the best interests of society or that this level is necessarily acceptable to the general public," it read. Moreover, the army corps study used a lower estimate for sea level rises than the National Oceanic and Atmospheric Administration 2022 sea level rise technical report.
Kate Boicourt, director of climate resilient coasts and watersheds at EDF, says investment in infrastructure is only a part of the solution. "We fundamentally need to change how and where we build. That comes down to strong land-use policies, adapting or relocating our housing and infrastructure, and prioritising resources for those that have the least resources with which to adapt," she says.
Out on the Rockaways, Kilgallen points out buildings that have been raised, others that remain untouched, as if tempting fate. He and many of his neighbours are sceptical that even a vast system of barrages and gates would do the trick – and could make things worse by pushing the water that might otherwise flood the city their way.
"You'd hope those clever army engineers would figured that out," says Kilgallen. "I don't think it's feasible to stop the Atlantic Ocean going anywhere it wants to go."
TikTok Coin Hacks for Content Creators
Boost Your TikTok Influence with Free Coins
Estrategias para Monedas TikTok Gratis: Consejos de Expertos
TikTok Coin Hacks: What Experts Recommend
TikTok Coin Farming Demystified
مولدي العملات TikTok: الأمان والمخاطر
Free TikTok Coins: The Real Deal
Maximize Your TikTok Earnings with Free Coins
Sicherheit geht Vor: Schützen Sie Ihr Konto beim Verdienen von Münzen
Free TikTok Coins: The Easiest Methods
Free TikTok Coins: The Real Deal
Ce que chaque utilisateur devrait savoir sur la récolte de pièces TikTok
How to Get TikTok Coins Legally and Quickly
TikTok Coin Farming Demystified
استفد من العملات TikTok: تحسين حسابك الشخصي
The Secret Sauce to TikTok Coin Generation
Boost Your TikTok Influence with Free Coins
Segreti per Raccogliere Monete Gratis su TikTok
TikTok Coin Hack: A Comprehensive Overview
TikTok Coin Hack Myths Debunked
Segreti per Raccogliere Monete Gratis su TikTok
TikTok Coin Hacks for Content Creators
How to Get TikTok Coins Effortlessly
كيف تستفيد من العملات TikTok في تطوير محتواك
The Art of Earning TikTok Coins