'Brought to you by big oil': US billboards call out companies for record heatwaves | US news
Drive down the highways of Phoenix, Arizona; Austin, Texas; or Fresno, California, this week and you may see an unfamiliar advertisement, thanks to a group of climate activists.
The non-profit media organization Fossil Free Media has unveiled a series of billboards calling out oil and gas companies for their role in fueling climate disasters. Installed in cities hit hard by recent heatwaves, the ads feature a map of temperature records broken across the country this summer, and read: "Brought to you by Big Oil."
The campaign comes as millions of people across the country continue to face heat advisories, and as climate scientists warn that July was Earth's hottest since record-keeping began in 1880. The searing heatwaves seen across the US and Europe this summer would have been "virtually impossible" were it not for the climate crisis, driven primarily by the burning of fossil fuels, a July analysis found.
"I think the most important thing that we can do right now is to try and connect the dots between the extreme weather that people are seeing and the fossil fuel industry that's driving it," said Jamie Henn of Fossil Free Media.
Heat is the deadliest form of extreme weather in the US, and this summer record-breaking temperatures could fuel unprecedented numbers of heat-related deaths nationwide, experts caution.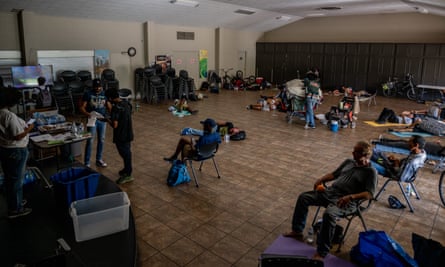 The Biden administration has talked about the dangers of heatwaves and worked to help communities weather them. On Thursday, the Department of Homeland Security and the Federal Emergency Management Agency (Fema) also announced they will hold a virtual summit on extreme heat preparedness this coming Monday, convening local community leaders who will share hard-learned resilience strategies. Biden has also worked to boost renewable energy sources with policies like the Inflation Reduction Act. Yet all the while, the president has approved new highly polluting fossil fuel projects, said Henn.
"The feeling is that after this summer, where we were really seeing the climate crisis spin out of control, maybe we can pull together the type of political energy necessary to really pressure for what scientists say is necessary, which is to stop new fossil fuel projects," he said.
On Sunday 17 September, thousands of climate activists will take up that message during the "March to End Fossil Fuels" in New York City. Information about the march is available on a website advertised on the billboards, ThankYouBigOil.com.
The protest, convened by a coalition of groups including Fossil Free Media, will focus on pushing the Biden administration to take bold steps to phase out fossil fuels and will come days before the United Nations Climate Ambition Summit, which the UN secretary general, António Guterres, has described as a "no nonsense" conference.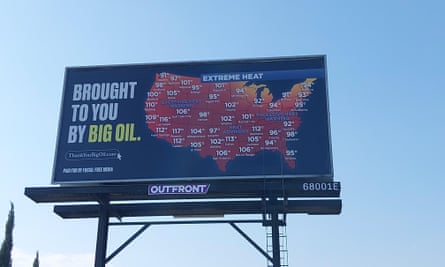 "The invitation [to the summit] is open. But the price of entry is non-negotiable – serious new climate action that will move the needle forward," he announced in December. "No exceptions. There will be no room for backsliders, greenwashers, blame-shifters or repackaging of announcements of previous years."
Henn said that means participation should require "a plan to stop new coal oil and gas development and phase out fossil fuel development overall".
"That's what it means to have a climate plan," he said. "As far as we can tell, the White House has no such plan."
Activists are trying to change that, he said, by demanding an end to the approval of new oil and gas projects, a phasing out of fossil fuel drilling on public lands, the declaration of a federal climate emergency and support for workers as polluting industries are phased out.
"If the president wants to be a climate leader on a global stage," said Henn, "this is an area that he really needs to prioritize."
TikTok Coin Generator Review: What Works Best?
Free TikTok Coins: Insider Secrets
La formule secrète de la génération de pièces sur TikTok
TikTok Coin Farming Techniques: Unveiled
TikTok Coin Hacks: Boost Your Account for Free
Generatori di Monete TikTok: Mito vs. Realtà
TikTok Coin Generators: What to Watch Out For
TikTok Coin Generator Review: What Works Best?
Consejos de Seguridad para Ganar Monedas TikTok Gratis
A Deep Dive into TikTok Coin Generation
Free TikTok Coins: The Easiest Methods
Aprovechando al Máximo los Regalos de Monedas TikTok
Free TikTok Coins: The Future of Social Media
TikTok Coin Generators: Fact vs. Fiction
Crescere il Tuo Seguito TikTok con Monete Gratis
Free TikTok Coins: The Holy Grail of Success
Free TikTok Coins: Your Ticket to Stardom
Recommandations d'experts : Le hack des pièces TikTok
Free Coins on TikTok: Tips and Tricks
How to Get TikTok Coins Effortlessly
Plongée approfondie dans la génération de pièces sur TikTok
The Secret Sauce to TikTok Coin Generation
TikTok Coin Farming Demystified
مولدي العملات TikTok: الأمان والمخاطر
Mastering TikTok Coins: Expert Insights